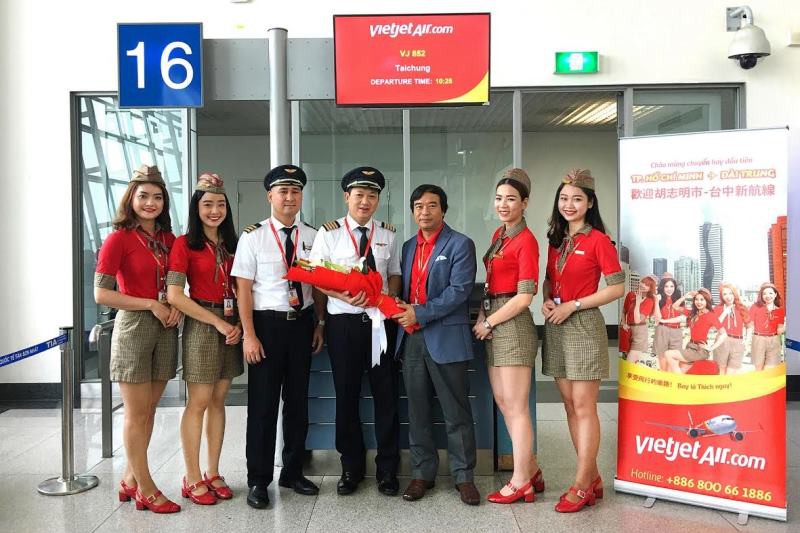 Vietjet has launched its 5th route to Taiwan connecting Ho Chi Minh City with Taichung (Taiwan), becoming the airline with the most routes between Vietnam and Taiwan. The new service is to meet the increasing travel demand of individuals, tourists and businessmen, looking to boost regional trade and integration. It follows last month's launch of the Hong Kong – Ho Chi Minh City route serving as another important step forward for Vietjet in its on-going move to expand in the Asia Pacific region.
The Ho Chi Minh City (HCMC) – Taichung route is operated with four round trips per week, on Monday, Wednesday, Friday and Sunday with flight time per leg being 3 hours 30 minutes. The HCMC-Taichung flight takes off at 10:25 (local time) and lands at 14:45 (local time). The return flight from Taichung departs at 15:45 (local time) and arrives in HCMC at 18:00 (local time). All passengers onboard the inaugural flight have received lovely gifts from Vietjet.
Promotional air tickets for this new route are also available for booking from 13:00 to 15:00 every day under Vietjet's 5th Anniversary "Win a 1-kg gold airplane, Fly to a happy future" campaign from now till February 28.
Vietjet offers up to 5 million promotional air tickets from only HKD8. Tickets can be booked at www.vietjetair.com.
Payment can be easily made with debit and credit cards of Visa, MasterCard, JCB, KCP and American Express and ATM cards that have been registered with internet banking. All passengers who book tickets successfully can also enter a daily lucky draw for free return air ticket, a weekly lucky draw for 3.75-gram of gold, and a final lucky draw for a 1-kg gold aircraft model.