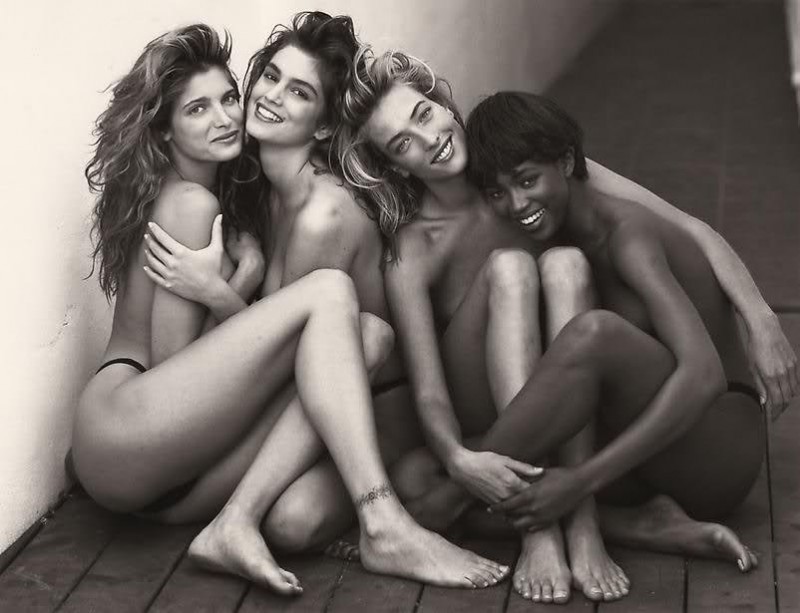 THE SUPERS: Stephanie Seymour, Cindy Crawford, Tatjana Patitz & Naomi Campbell in 1989 by Herb Ritts / Image: Tumblr
After her recent appearance on "The Breakfast Club" where she revealed that 90s supermodels never starved themselves, Naomi Campbell dropped another bombshell on CBS' This Morning. "The Face" mentor revealed that a group of legendary models will be reuniting for an unnamed project. Specifically–Lindva Evangelista, Cindy Crawford, Christy Turlington, Kate Moss, Stephanie Seymour and Claudia Schiffer.
As to whether the domination of 90s supers could ever return again? Naomi says she doesn't think it's possible. "I think you'll never get a group of ladies… I came up with great ladies, and I don't think you'll ever get that group of us together like that again," she says. "You'll get one here, one there. But as a whole, you'll never get it."
For now, Naomi is playing coy about the details about the reunion, saying, "I can't tell you. It's in a very nice, sunny warm place on the water." So a photo shoot then for a major magazine? Or maybe a secret project for a label? We'll keep watching. See a clip from the show below for more.