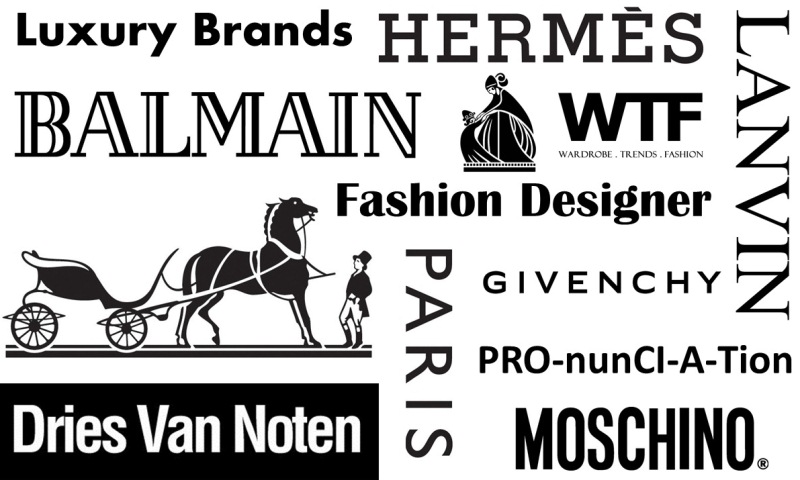 Many people mispronounced some of the most famous designers names but they neglect to really learn the pronunciation. Designers name sometimes get mispronounced in the media. Who's fault is it to correct those that cannot pronounce Louis Vuitton or Versace or Proenza Schouler? The designers? Media?
Well, for the sake of sharing with all my readers the correct pronunciation of designer's names. I have compiled a list with the help of google, and other fashion websites of some of the most commonly mispronounced designer names.
It's not just for the sake of being polite, it also makes you seem smarter and a lot more sophisticated in higher social circles or when you are talking to others in the fashion industry.
If you've long since mastered the high-end house names, you'll laugh at what a novice you once were. If you didn't even know that you were saying it wrong… well, now is a good time to learn.
A
Abaeté: Ah-bye-ah-tay
Alejandro Ingelmo: Allay-handro In-gel-mo
Andrew Gn: Andrew Jen (rhymes with "ten")
Andy Thê-Anh: An-dee Tay-Ann
Ann Demeulemeester: ann DEH-moo-la-mee-ster (NOT ann day-MEW-la-meester; ann DE-mule-leighton-meester)
Anya Hindmarch: Ahn-ya Heind-march
Arthur Mendonça: Ar-thur Men-doe-sa
B
Badgley Mischka: Badge-lee Meesh-ka
Balenciaga: Bah-len-see-AH-gah
Balmain: Bahl-mahhhhn (IMPORTANT NOTE ON FRENCH WORDS: LET YOURSELF TRAIL OFF AT THE END, SO YOUR MOUTH IS IN A ROUND SHAPE AND YOU DON'T QUITE GET TO THE "N"; APPLICABLE IN "LANVIN" AS WELL)
Behnaz Sarafpour: Beh-nozz Sa-rah-fur
Boglioli: bo-lee-OH-lee (NOT bogg-lee-OGG-lee)
Bottega Veneta: Bo-tega Ven-e-ta
Bulgari: Ball-gah-ree
Burberry Prorsum: Bur-bur-ree Pror-some
C
Cacharel: Cash-er-el
Carolina Herrera: Caro-leena Hair-era
Cesare Paciotti: Che-sah-ray Pah-cho-tee
Chaiken: Chay-ken
Chanel: Shuh-nel
Christian Lacroix: Christian Luh-qua
Christian Louboutin: Loo-boo-tin ("tin" rhymes with the French word "vin")
Christian Dior: Dee-yor
Commes des Garcons: Comb day Garse-on, gentle 'on' sound on the end
D
Dolce & Gabbana: Dole-chay
Dries Van Noten: DREES-van-KNOW-tin (NOT drise-VAN-notin'; driss-van-NUH-ten)
E
Ermenegildo Zegna: Er-men-a-geel-do Zen-ya
Etro: Eh-tro
F
Fendi: Fend-ee
G
Gareth Pugh: Gareth Pew
Giles Deacon: Jy-els Dee-kin
Givenchy: Zhee-von-shee
Giambattista Valli: Gee-ahm-battista Valley
Gianfranco Ferre: Sj-yawn-franco Fair-ay
Gucci: Goo-chee
Guy Laroche: Ghee La-roash
H
Haute couture: If you say 'Hot Kew-ture' or Kucher, you'll want to change that to 'oat ku tour'
Hedi Slimane: Eddy Sli-mahn
Hermès: Air-mez
Hervé Léger: Air-vay Lay-jay
Hussein Chalayan: Who-sane Sha-lion
I
Issey Miyake: Eees-Ay Me-Yah-Kee not Is-he
J
Jean Paul Gaultier: Sj-awn Paul Goat-ee-ay
Joeffer Caoc: Joe-fur Kay-ock
Junya Watanabe: Joon-ya Wah-tah-nah-bay
K
KRISVANASSCHE: KRIS-van-ASH (NOT kris-VON-ass-chee; "KV ASSCHEEKS")
L
Lacroix: La-kwah
Lanvin: lahn-VAHN (NOT LAN-vin; lon-VAN)
Loewe: Low-ev-ay
Louis Vuitton: a cross between "vee-tahn" and "vih-tahn" with a soft french N
Lucien Pellat-Finet: Lu-see-en Peh-lought Fin-ay
M
Madame Gres: Madame Gray
Maison Martin Margiela: May-sohhhh…n Martin Mar-jhell-ah
Marchesa: Mar-kay-sa
Marithe Francois Girbaud: Jer-bo
Mainbocher: Maynbo-shay
Missoni: Miss-own-ee
Miu Miu: Myoo Myoo
Moschino: mo-SKEE-no (NOT MO-she-know; mo-SHE-no)
Monique Lhullier: Mo-neek Loo-lee-ay
N
Narciso Rodriguez: Nar-siss-so Ro-dree-gez
Nicolas Ghesquière: Ni-co-la Guess-ki-air
O
Olivier Theyskens: Oh-liv-ee-ay Tay-skins
OMBRÉ: om-bray
Oribe: or-bay
P
Pierre Cardin: Pee-air Car-dain
Proenza Schouler: Pro-enza Skool-er not Schoo-ler
R
Ralph Lauren: Ralph Lauren (as in Lauren the girl's name, not Sophia Loren)
Rei Kawakubo: Ray Kah-wah-koo-bo
Rochas: ro-SHOSS
Rodarte: Ro-dart-tay
Ruching: roosh-ing
S
6267: Six-two-six-seven (not Sixty-two-sixty-seven)
Sonia Rykiel: Sonia Ree-kee-eel
Sophia Kokosalaki: So-fee-a Ko-ko-sah-lah-kee
Swarovski: swore-off-ski
T
Thakoon: Ta-koon
Thierry Mugler: Tee-air-ree Moog-lay
Tibi: Tbi (not Tee-bee)
Tocca: Toe-ka
V
Versace:  ver-SAH-chay  (NOT vair-SASE; vur-SAH-chee)
Vionnet: Vee-oh-nay
Y
Yigal Azrouel: Yee-goll Az-roo-el
Yohji Yamamoto: Yo-jee Ya-ma-mo-to
Yves Saint Laurent: Eve-san-Laur-ahnt
Last UPDATED on 25 Feb 2010.
Time to 'fess up, people… which designer names have you been completely butchering for years? Which ones are you patting yourself on the back for knowing? And what did we leave off this list that you'd like to know?
Share with us in the comment box below.