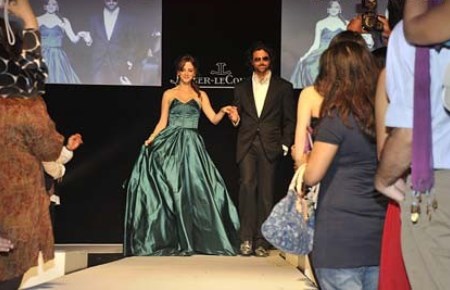 Swiss watch manufacture Jaeger-LeCoultre continues to build its image in India, this time with Bollywood powerhouse Hrithik Roshan and his wife Sussanne.
The star and his wife are working with the brand in support of their charity, the HR Foundation. We previously reported on the brand's collaboration with Indian fashion designer Suneet Varma here.
"It is indeed a great pleasure to have with us today our distinguished guests of honor, Sussanne and Hrithik Roshan. We have always believed in giving back to society and are happy to support and encourage a noble cause of creating positivity in the lives of several deprived children. Jaeger-LeCoultre extends warm wishes towards the success of the HR Foundation," said Jaeger-LeCoultre CEO Jerome Lambert, who was present at the event.
Held in New Delhi, Jaeger-LeCoultre brought out its stunning high jewelry pieces and jewel-encrusted timepieces in a cocktail event.
While the brand has put together such presentations before, all over the world, this is the first time it has done so in India, marking yet another milestone for both the brand and for Asia in general.
Amongst the pieces presented were the Le Lierre jewelry set, which Sussanne can be seen wearing, the Joaillerie 101 Manchette and the Reverso Neva.