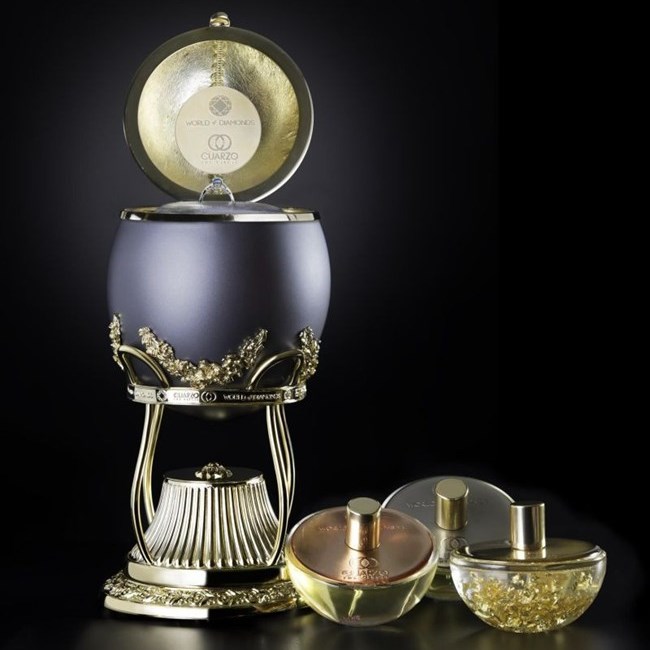 Inspired by the multidisciplinary conception of crafts and beauty explored during the Renaissance, World Of Diamonds Group and Cuarzo The Circle Author Perfumes have partnered to bring into reality an ultra-luxurious masterpiece fated to become the quintessential cynosure and evocative panacea of our zeitgeist.
The Royalé Dream perfume: a singular piece of art that welds the mastery of perfumery and jewelry to the golden proportion. A sumptuous electric blue treasure chest securing the three newly created most exclusive perfumes in the world. A trinity of over-worldly fragrances filled with gold flakes and colored diamonds, and garneted with a Fancy Vivid Blue Diamond Ring.
Three fragrances to sublimate physics, emotions and intellect. The Royalé Dream curates reality through a philosophy of unification between perceived beauty and unconscious functionality. Integrating the golden ratio in both design and in the proportion of which the ingredients and noble materials are combined, The Royalé Dream's fragrances infuse a proprioceptive effect in the wearer, enhancing the configuration of body and mind.
The Royalé Dream was officially unveiled by the World Of Diamonds, after a stunning fashion show involving Formula One drivers at the Amber Lounge Singapore 2015.
EARTH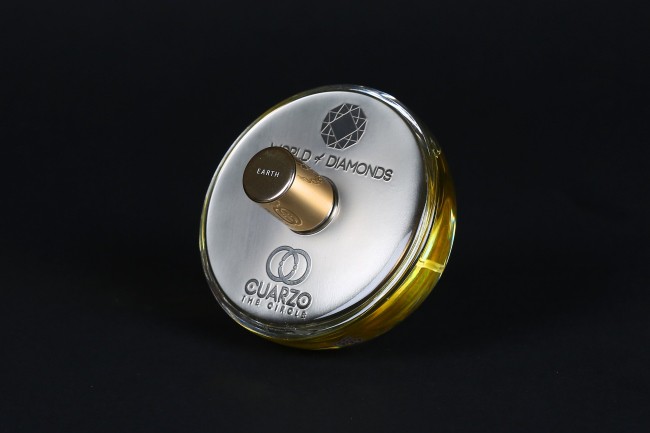 Earth Fragrance with 10 Colorless Diamonds
A fragrance of masculine character that exudes power and control of the worldly creations through one's unbreakable will, shaping nature into art, chaos into balanced perfection. With a heart of 10 exceptionally colorless diamonds of the highest clarity and a scented base of pure Oud Oil – the most expensive oil in the world distilled from agar wood – Earth perfume embodies the tangible proof of endless earthly possibilities.
CELESTIAL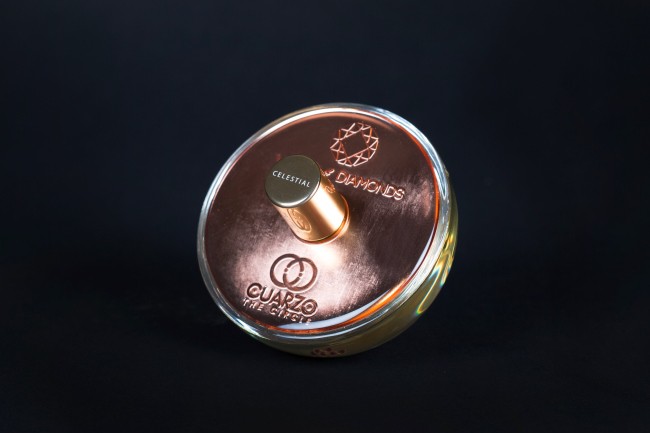 Celestial Fragrance with 6 Purplish Pink Diamonds
Celestial creates a constant epiphany of feelings, a paradise of olfactory notes transcending matter and reality. With floral characters of Lotus, Water Lily, Violet, Peach and Jasmine, and pure visual pride emboldened with six pink diamonds, Celestial's spirit permeates the skin and the mood of the wearer to celebrate the ascendancy of life through the ethereal.
ENLIGHTENMENT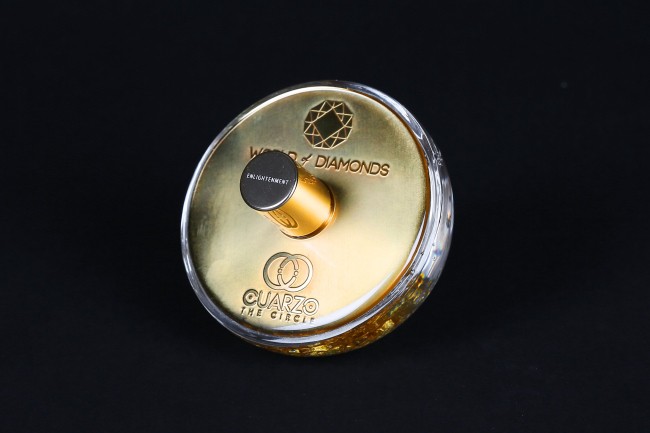 Enlightenment Fragrance with 24karat Gold Sparks
A secret alchemy of unique scents handpicked from all over the world, exquisitely combined into a mixture that promises revelation and profuse access to the recondite mysteries of nature and soul. A perfect sphere of mystical juice glistening with 24K gold sparks, each single one of them guarding a scintilla of truth and felicity ready to entice creativity and illumination.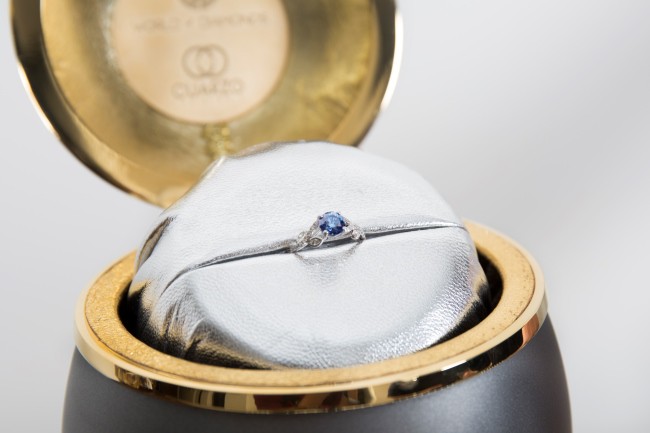 Blue Diamond Ring on Lambskin Pillow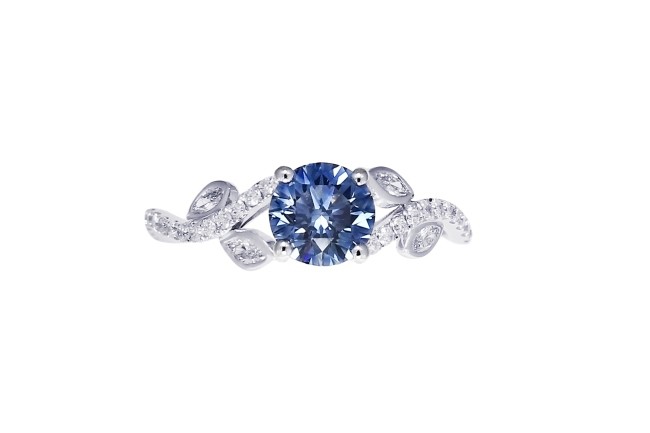 The Royalé Dream Blue Diamond Ring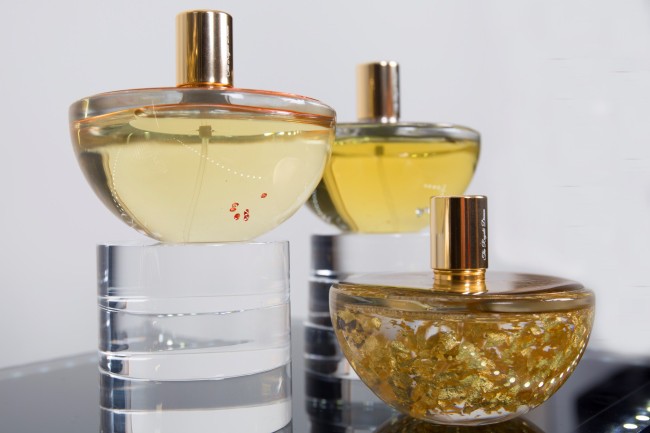 Upclose with the Fragrances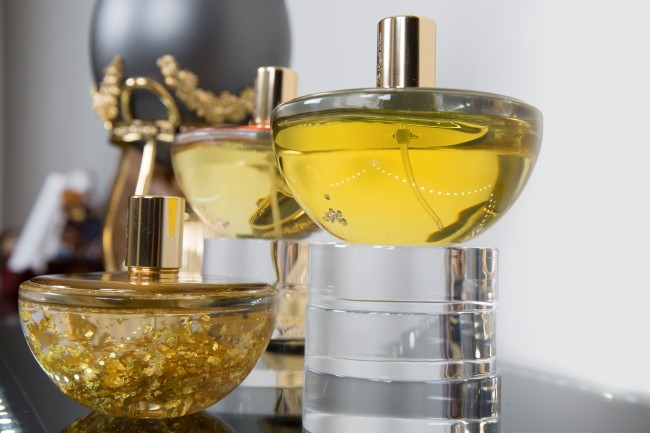 Upclose with the Fragrances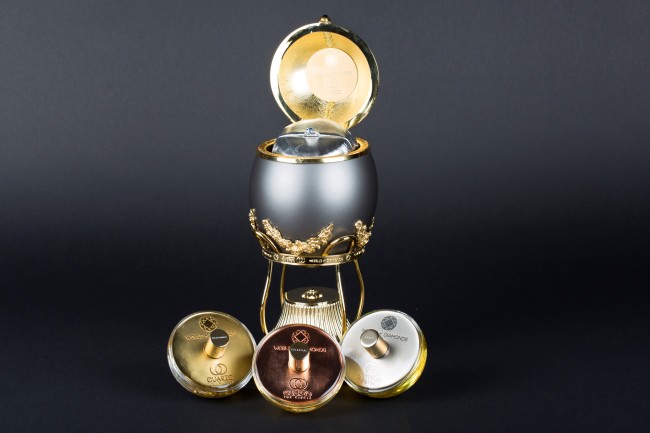 The Royalé Dream Collection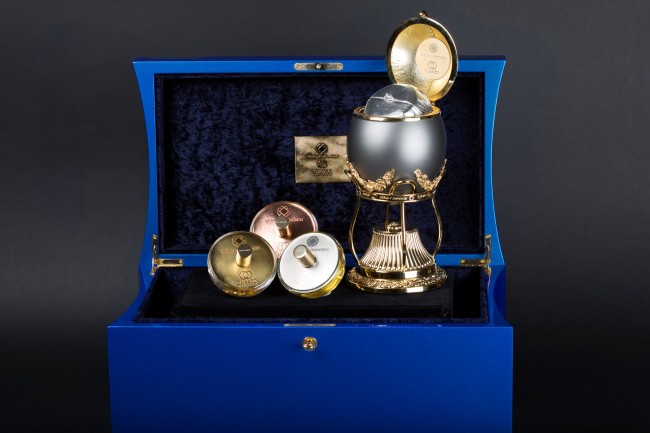 The Royalé Dream Collection