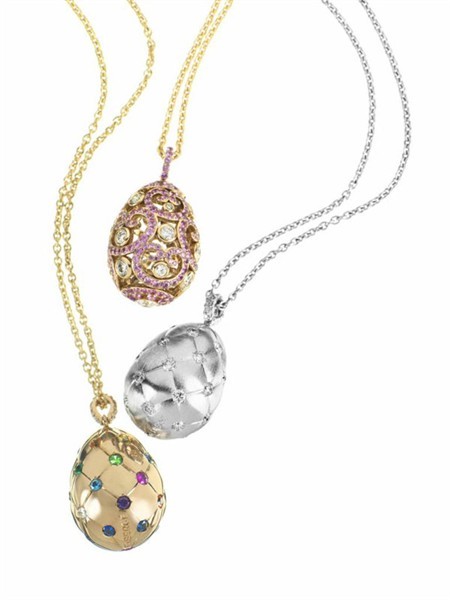 It's been a long gestation, but they've finally hatched: Fabergé has released an exquisite new collection of jeweled eggs, the house's first collection of couture eggs since the Russian Revolution in 1917. The Les Fameux de Fabergé and Les Frissons de Fabergé collections of fine egg pendants have lightweight titanium bases encrusted with diamonds and precious gems; the most dear being the Diaghilev Egg, covered with diamonds and rubies and costing US$600,000 a pop.
These pendants pay homage to the legendary Imperial Eggs created by Peter Carl Fabergé for Russia's imperial family, the Ramanov's. These new collections mark a historic comeback of sorts, after the Russian Revolution in 1917 brought an abrupt end to the Romanov dynasty and to the House of Fabergé.
"We bought the Fabergé brand to restore the name to its historic glory," said Brian Gilbertson, chairman of Pallinghurst Resources, which invests in natural resources and is Fabergé's main shareholder. In a press statement, Gilbertson also said they were commited to reintroducing the Fabergé name to the international market.
"A Fabergé egg remains one of the truly iconic objects in jewellery history," Gilbertson said. "We are committed to reviving the true Fabergé heritage and building Fabergé into a world leading, fabulous brand."
The "Les Fameux de Fabergé" clutch of jeweled eggs will be on display at Fabergé in Geneva from July 18 to August 21.