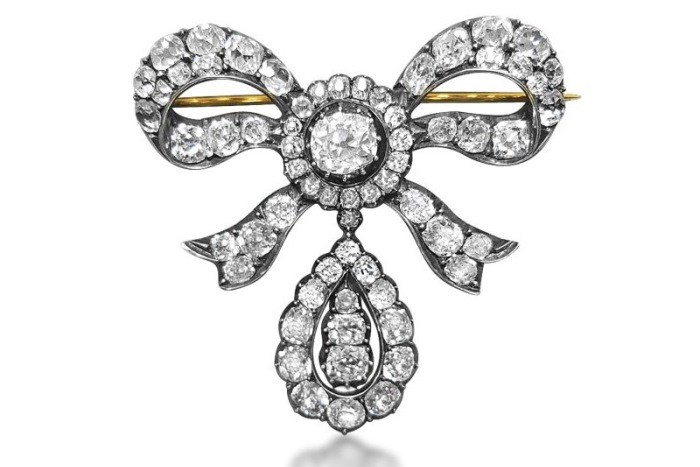 An Antique Diamond Bow Brooch with Detachable Pendant
The Singapore Jewellery & Gem Fair (SJGF), the most significant in the region, will be returning this November for its fourth edition. The fine jewellery fair will be held at the Marina Bay Sands Expo and Convention Centre from November 4 – 7.
Exclusively endorsed by the Singapore Jewellers Association and the Diamond Exchange of 
Singapore, the fair has certainly come a long way since its debut, with a significant growth over the years in both buyers and visitors. Last year, a record 10,018 buyers attended the SJGF, marking over US$11.7 million in onsite sales. The growth also highlights the emergence of Southeast Asia as a promising market, with jewellery worth over US$50 billion in the region.
An exhibitor talking to customer at The Singapore Jewellery & Gem Fair (SJGF)
According to Paul Wan, Managing Director, UBM Exhibition Singapore Pte Ltd, there indeed is an increase in the number of local and regional trade buyers attending the fair, including Poh Kong Jewellery from Malaysia, Pesona Fine Jewellery from Indonesia, and local retailers Aspial-Lee Hwa Jewellery, Sookee Jewellery and Poh Heng Jewellery.
"We believe it is important for retailers to source a wider variety of designs to cater to the different needs and demands of their customers," says Wan. "At the same time, retailers can also take the opportunity to learn about and adapt new technologies which help them to expand their offerings with cost reduction."
The highly anticipated fair will include a substantial selection of fine jewellery across many international exhibitors showcasing their wares, available at wholesale prices. From exquisite yet wearable pieces for day-to-day ease, to lavish heirloom-worthy collections, the internationally acclaimed jewelers will include those from Austria, Belgium, Germany, Hong Kong, India, Italy, Japan, Switzerland, Taiwan, Thailand, USA, Singapore and more.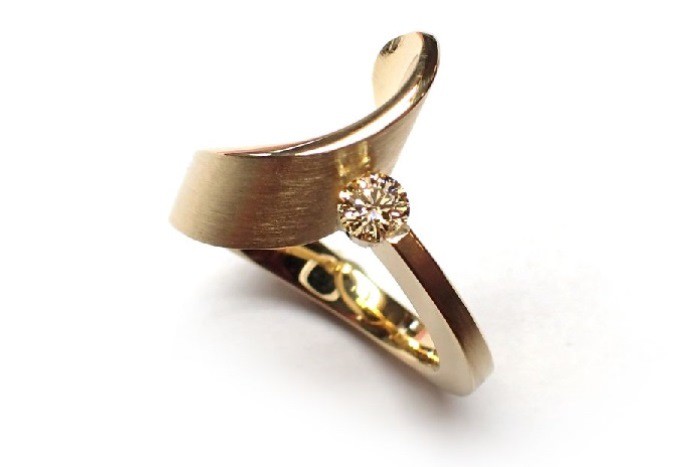 Cardillac Diamond Ring (0.18ct) in 18K Gold
Indeed, diamonds, blue sapphires, rubies, emeralds and pearls are just some of the 120,000 pieces of fine jewelry that will be showcased across ten country pavilions. Of the massive collection, collectively worth a staggering $3 billion, some highlights include handsomely crafted and rare antiques like the circa 1940 Retro Diamond and Ruby-Gold Hinged Cuff Bracelet by Boucheron.
The only event endorsed by the Singapore Jewellers Association and the Diamond Exchange of Singapore, the SJGF is organized by UBM Exhibition Singapore Pte Ltd, a member of UBM Asia.
The fair is open to the public, welcoming all jewelry enthusiasts to explore the region's finest gems over a period of four days. In addition to having the opportunity to view a great assortment of jewelry designs across the spectrum of time, including those that rarely make an appearance in the local market, visitors can also expect to meet various reputable, international manufacturers and private boutiques from all over the world. With contemporary pieces alongside fines antiques in a seemingly endless collection, there is arguably something for everyone.
In addition to buying, visitors can also attend various seminars where they can gain awareness on precious stones, new trends and useful tips when investing jewellery.
Pre-registration for the Singapore Jewellery & Gem Fair is now open. To register, click here.
——————————————————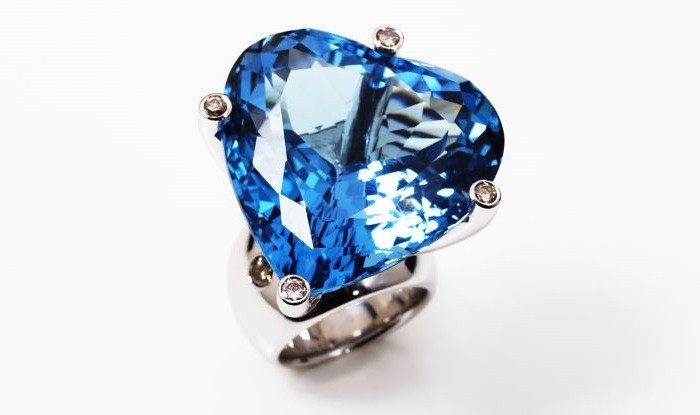 Hollywood ring made of 750 white gold with a dark blue topaz in heart shape of 127.65ct and 6 champagne-colored brilliant-cut diaminds totaling 0.76ct