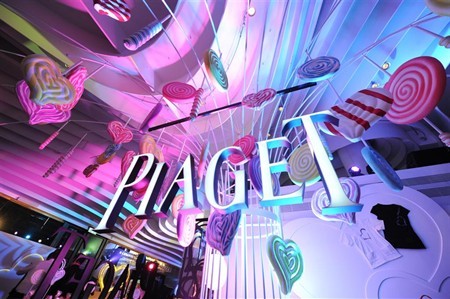 Swiss fine jeweler Piaget threw a charity bash in Hong Kong. Martine Sitbon, founding designer of Rue du Mail, was also invited to design a special Piaget Heart to Heart T-shirt, in order to raise funds for UNICEF's efforts to aid impoverished children worldwide.
The design of the T-shirt was a canny synthesis of elements from Rue du Mail's Autumn-Winter collection and Piaget's iconic heart pendant. "I am very pleased to be partaking in this meaningful collaboration with Piaget. I believe this is a great cause to show our support, and we should all be wearing our 'hearts' on the sleeve," Martine Sitbon said.
The whimsical heart themed décor and pastel-hued candy props of the party were similarly inspired by the young-at-heart lines of Piaget's pendant. The childlike, carnival setting also included catcher machines of the kind found at arcade game centers—guests whiled the evening away attempting to "catch" Piaget Heart to Heart bears on the machine, a fun way to raise money for charity. Guests at the Piaget Heart to Heart Party could also contribute to UNICEF simply by wearing the chic white tee to the event—Piaget pledged to donate money on behalf of the attired guests upon their arrival.
The starry event saw many celebrities showing up to mingle and party the night away, including Bernice Liu, Coco Chiang and Mark Ryan, among others. Scroll down for more pictures of beaming celebs having fun for a good cause.