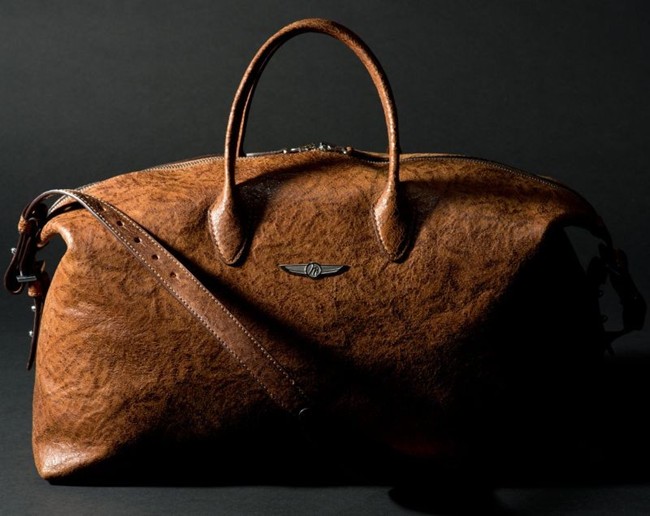 From its Phoenix Transatlantic collection, Moreca Atelier presents the Tourer PH-9 – a vintage leather weekender bag with hardware made of stainless steel 316L. Designed for weekend trips the bag features a general purpose compartment, a zipped pocket compartment for keys and documents, shoulder strap padded with natural felt, and an all-natural suede lining.
It takes 16 hours of the whole Atelier to create the Tourer PH-9. Selected leather pieces are cut by hand into 86 separate details and assembled in the course of 200 assembly operations. The technology developed by the Atelier experts is worth paying some attention to; for example, the back tack places are not visible from the exterior of the bag. The genuine vegetable leather used to construct the Tourer PH-9 is produced at a small family manufacture in Tuscany. The patented treatment makes it possible to get leather with scuffs and cracks which can appear on its surface only with time. Also, at the same time, the leather's elasticity and durability are preserved.
All metal elements of Tourer PH-9, except zippers are made by hand of high-end 316L stainless steel. The vintage leather imitates the lining of vintage aircraft armchairs of yesteryear. Furthermore, details of all components of the bag pay homage to certain features of the Phoenix Super Constellation GT.
The wing emblem undergoes an 8-stage processing before being fastened onto the Tourer PH-9. Operations such as cutting fastening threads in 8 holes on the emblem's back, matte finishing of its inner frontal area, filing and polishing are carried out solely by hand. The craftsman spends about 50 hours working on a single emblem. It's also interesting to note that the slope angle of the emblem is the same as that of the Phoenix Super Constellation GT's wings.
The Moreca Phoenix Transatlantic Tourer PH-9 can be yours for US$4700.