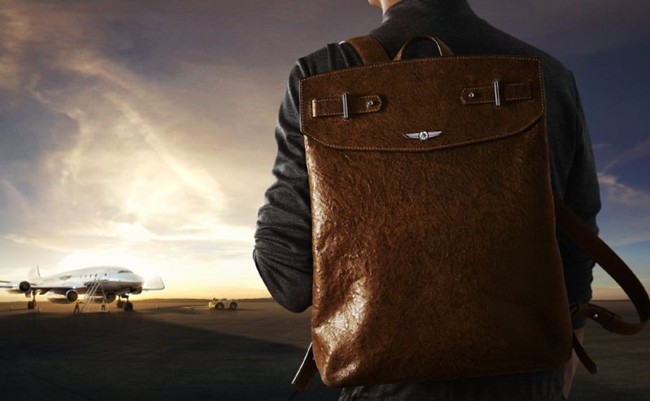 With the Aviator PH-1 backpack, Moreca Atelier narrates its vision of how the objects from the world of the Lockheed Super Constellation aircraft could have looked like if the aircraft had survived the coming of the jet aviation era and had become an irreplaceable companion of the modern globetrotter. The first object from the Phoenix Super Сonstellation GT world is a backpack for a gentleman – the handsome, Aviator PH-1.
It took Moreca almost two years from creating the concept to realization of the finished product and creating its world. The Aviator PH-1 consists of 98 details. Each backpack is assembled in the process consisting of 370 operations, starting from the moment of selecting leather to packing the finished product in its presentation box. The materials for the backpack are delivered from five countries: Italy, Switzerland, USA,Ukraine and Germany.
The construction of the Aviator PH-1 is based on a steamer bag design, one of the oldest and the most interesting form factors of bags, when the straps fix the flap lock. The backpack features a main general compartment with an inner pocket, and an inner hidden pocket, which can be accessed from the back. All inside surfaces of the backpack are made of natural suede. Each detail of the backpack imitates certain features of the Phoenix Super Constellation GT aircraft, be it the embossed pattern of the original turbines and nacelle elements at a scale of 1:280 around its all studs, the tail numbers of the aircraft marked on the hangtags and the additional elements of package, or its wing lines revealed by the flap or the contours of inner pockets. The rear of the backpack is worth to be given special attention. The anatomical back features quilting technique, replicating shapes and lines of the shock-absorbing cushions on aircraft armchairs, developed by us for the cockpit of the Phoenix Super Constellation GT.
Special vegetable tanned leather, curried in a peculiar way for natural aging effect, was developed for creating the backpack. It is treated with chestnut and mimosa extract, dried in a natural way, and polished with amber stone. The backpack's lining is superior quality natural suede, and almost all its metal accessories are made by hand of nickel-plated brass, epitomizing metal of aircraft covering. All these components are assembled by-hand during 50 hours to finally get the backpack worthy of Howard Hughes. Each backpack has a unique serial number and a product data sheet. There will be produced 99 pieces of Aviator PH-1 in this leather and hardware type.