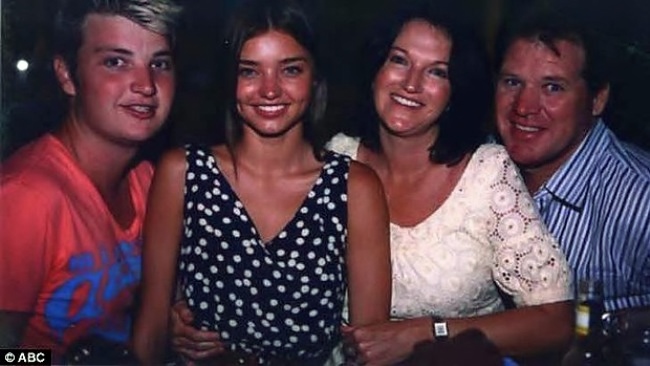 (Photo: It's been a while: Miranda Kerr's family want to be together again. Photo: ABC)
Though Miranda Kerr and estranged husband Orlando Bloom appear to be going through the most civilized breakup in history, things between the Australian supermodel and her family might not be so rosy. In a new documentary airing tonight on Australia's ABC1 channel, the Kerrs say they've not seen their daughter, or her son Flynn, for a year. They blame fame for isolating the brunette beauty from those who love her most, and say that they only heard of her marital separation last fall when Bloom himself shared the news.
"Miranda's life is so different now [and] she's surrounded by 'yes' people all the time," mother Therese Kerr says in Family Confidential. "It's so important for me to be real, to be true, to be who she needs me to be. We have been best friends for most of our life. We used to talk just about every day. What I have to do is let go and allow her to be assertive and lead her own life. And I guess for any mum that's a little bit challenging sometimes to do that."
"I'd like to spend more one-on-one time instead of with an entourage of people who we don't really know," the model's brother, Matthew, adds. "I love her to death; I just want to see her more." Father Jonathan and grandmother Ann also speak out in the documentary.
The question is, will seeing this family drama play out in the media bring Kerr closer to her loved ones, or push her away?
(Source: Telegraph Fashion)