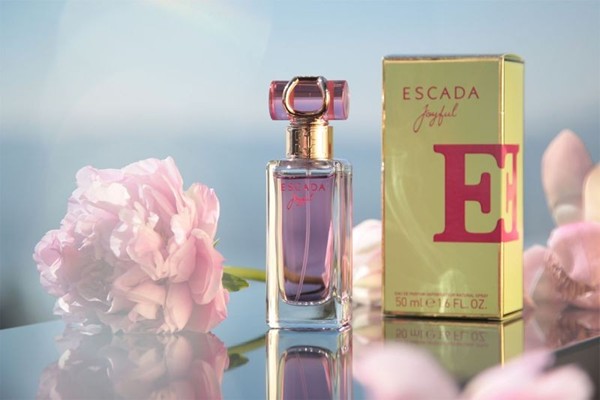 Escada captures 'Joy', the state of mind where everything seems possible and nothing is too daunting, in its enticing new fragrance Escada Joyful. Inspired by the moment of joy one feels when receiving a beautiful bouquet of fresh-cut flowers, the fragrance reveals a beautiful, fresh pink peony, surrounded by dewy white florals, awakening an inner feminine happiness. The luminous scent seems to capture happiness in a bottle.
Delicate and light, with the shimmering quality of morning dew, Escada Joyful is a delightfully floral scent. The fragrance opens with top notes of blackcurrant sorbet which releases a gentle icy sensation to the skin, followed by notes of mandarin and melon. Mid notes of violet leaves add sparkle and shimmer to the fragrance, while pink peony adds a light vitality and natural magnolia oil creates a new wet freshness that is deepened with a well balanced blend of cyclamen, and peppering pink freesia. Escada Joyful finally settles with base notes of Florimoss that projects an earthy tone wrapped by the familiarity and creaminess of sandalwood and the rich warmth of honeycomb.
Supermodel Miranda Kerr reflects the many facets of Escada Joyful. Her outlook on life and her blend of natural sophistication, confidence and spontaneity make Miranda Kerr the perfect ambassador for the fragrance.
"I am delighted to be associated with Escada Joyful. I love what the fragrance stands for – it's about seizing the small opportunities, and finding pleasure and joy in the moments that make up your day. For me, the scent conjures beautiful memories of hand-picking a fresh bouquet of flowers. It is enriched with undertones of earthy sandalwood and delicate pink peony which I absolutely adore, as peony's are one my favourite flowers!" commented Miranda.