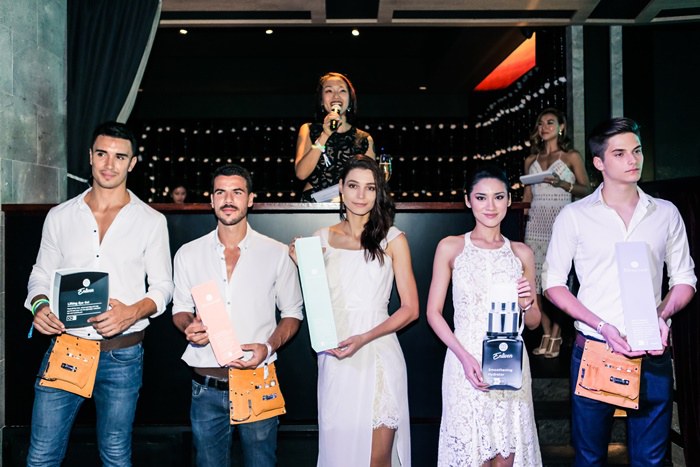 NOVU Medical Aesthetic Clinic had its biggest party of the year at CE LA VI Singapore at Marina Bay Sands. It was an exclusive party event with invitations extended to all NOVU's investors, customers, media, celebrities, bloggers and influencers. The party was held to celebrate NOVU's collaboration with the Arts scene and the launch of its latest skincare series; Elemental and Enliven. NOVU was delighted to celebrate this special occasion with all whom were present to rejoice with them.
To kick-start the party, Ms Jennifer Loh, Managing Director of NOVU Medical Aesthetic Clinic, Ms Adeline Yeo, Singapore's 1st Finger Painting Artist, and Ms Sumitra Pasupathy, Co-Founder & Board Director of Playeum, Children's Centre for Creativity popped the champagne and cheers to the success of NOVU. The evening was filled with much anticipation and joy as a stunning live blindfolded painting performance was done by Ms Adeline Yeo and NOVU unveiled its latest skincare series; Elemental and Enliven.
The guests were immersed and dazzled by Ms Adeline's performance along with NOVU's product experience bars where the guests were able to try out the new skincare series. All guests were relished in the delectable canapes, wines and champagnes served throughout the night.
With its second instalment of Art Meets Aesthetics in placed as Production Supporter for local musical production, Forbidden City: Portrait of an Empress, Cheryl Tan casting as Young Yehenara graced the party along with Singapore Repertory Theatre's Executive Director, Ms Charlotte Nors. The party was hosted by artiste, Ms Carla Dunareanu.