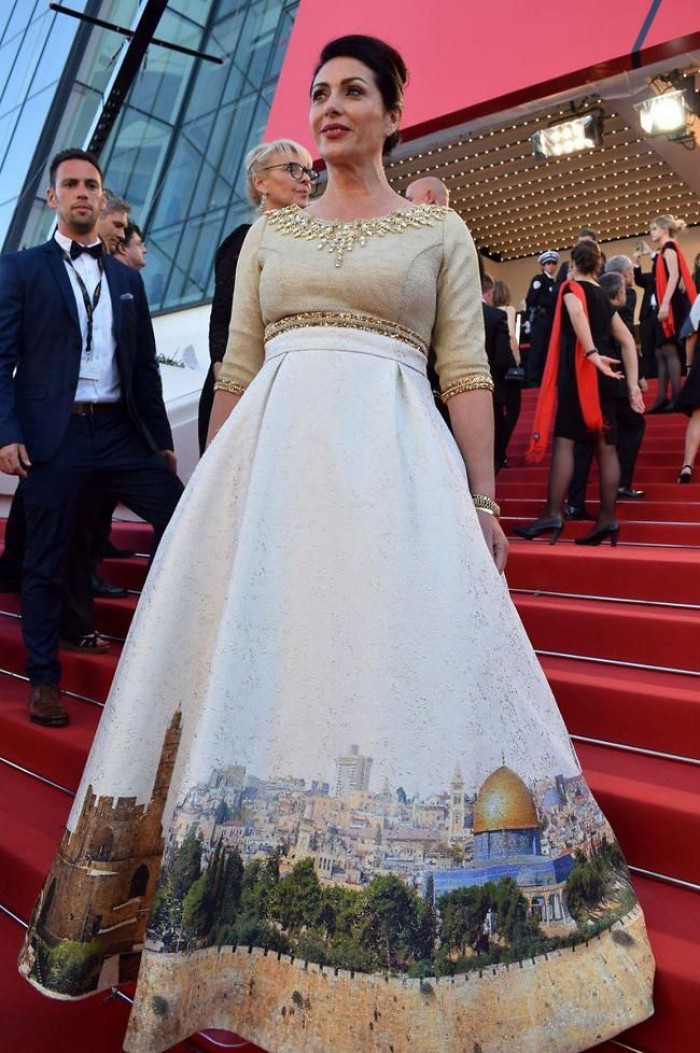 Culture Minister Miri Regev used the red carpet, a venue normally reserved for fashion statements, to make a kitschy political statement with a dress emblazoned with a panorama of Jerusalem as the Cannes Film Festival kicked off earlier on Wednesday.
Regev sported the dress, with a picture of the city on a white background circling the bottom of the skirt, as she attended "Ismail's Ghosts," the opening film of the annual festival in the French riviera resort.
Onlookers stopped to take photos of the dress, made of gold and white fabric representing the city of gold, which had pictures of the Western Wall, the Tower of David and the Dome of the Rock and the city's modern downtown around the lower third.
The dress's message came as Israel is set to celebrate 50 years of having stitched the eastern and western halves of the city together following the 1967 Six Day War, but with US refusal to declare the Western Wall part of Israel a reminder that international recognition of Israeli sovereignty over any part of East Jerusalem is made from whole cloth.
"This year we are celebrating 50 years since the liberation and reunification of Jerusalem," said Regev, who commissioned the fashion statement. "I am proud to celebrate this historic date through art and fashion, and I am happy that this work by Israeli designer Aviad Herman is so moving and honors the beautiful status of our eternal capital Jerusalem."
Herman thanked the minister for the opportunity "to express the celebrations of the city. For the past months I worked with uncompromising devotion to create this dress, along with my mother Sari," he said, "and we are very proud of the result."
The culture minister shared a video on her Facebook page which was made for the Israeli pavilion at the film festival, intended to show the beauty, scenery, diversity and culture of Israel and Jerusalem.
(Photo: Eli Sabti/Facebook)