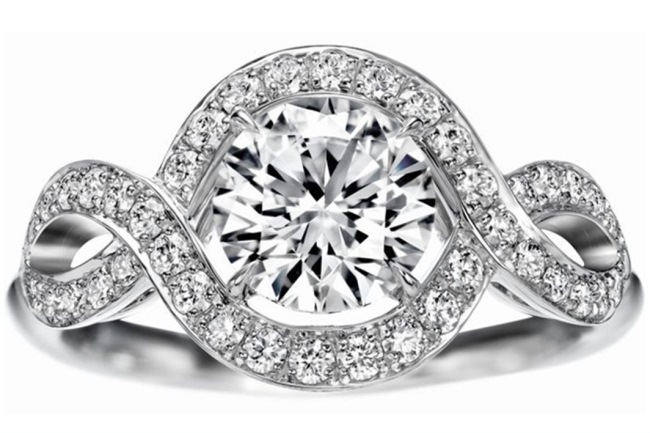 The House of Harry Winston presents the absolutely stunning, Lily Cluster Diamond Engagement Ring. The latest bridal offering from Harry Winston features an exquisite round brilliant-cut diamond, poised at its centre, which seemingly floats in the middle of intertwining blossoming petals. Handcrafted entirely from platinum and diamonds, the sublime symmetry of the floral motif enhances and highlights the beauty of the centre stone.
The Lily Cluster motif is derived from archival Winston sketches that date back to the 1940s. The motif captures the shape of lilies in full bloom and underscores Harry Winston's longstanding commitment to creating impeccable jewels inspired by the grace and beauty of nature.
True to the uncompromising quality synonymous with the Harry Winston name, each diamond is meticulously hand-selected from only the top three color grades (D,E,F) and clarities (IF – Vs2). These diamonds are set using a minimum amount of metal to maximize the extraordinary character of the stones. Starting this May, the Lily Cluster Diamond Engagement Ring is available in three stone sizes (0.50-, 0.70-, and 1.00-carat) at Harry Winston boutiques worldwide.