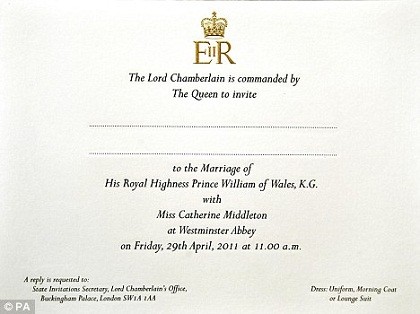 Gold embossed invitations have been sent out for arguably the most exclusive event of the year, the royal wedding of Prince William and Kate Middleton.
The couple has invited close to 1,900 guests for the service at Westminster Abbey on April 29, many of whom are also expected to attend a post-wedding breakfast at Buckingham Palace.
HRH Queen of England has also personally invited 40 crowned heads from around the world including the Middle East, despite the tumult sweeping the region – as well as the expected crowned heads of Europe.
Among the surprise invitees are the King of Jordan, the Crown Prince of Abu Dhabi, the Sultan of Oman, the King of Bahrain, the Sultan of Brunei and the King of Saudi Arabia as well as the Emperor of Japan, the King of Malaysia, the King of Tonga and the King of Thailand.
The invitations have been produced on thick, white card measuring 8in by 6in, bevelled, gilded and stamped with EIIR in gold which has then been burnished.
The couple has also invited 300 family and friends to an evening reception at Buckingham Palace.
(Source: dailymail)