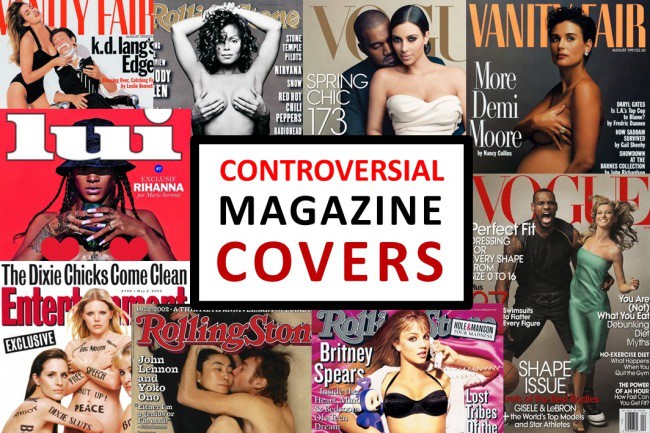 In the world of entertainment and fashion, there are always covers that cause people to talk. But once in a while, there comes along a cover that catches mainstream attention that you almost can't avoid.
In event of the recent Kimye Vogue shoot, we thought why not round-up some of the most controversial covers yet. From John Lennon to Britney Spears—these are the covers that had the whole world abuzz.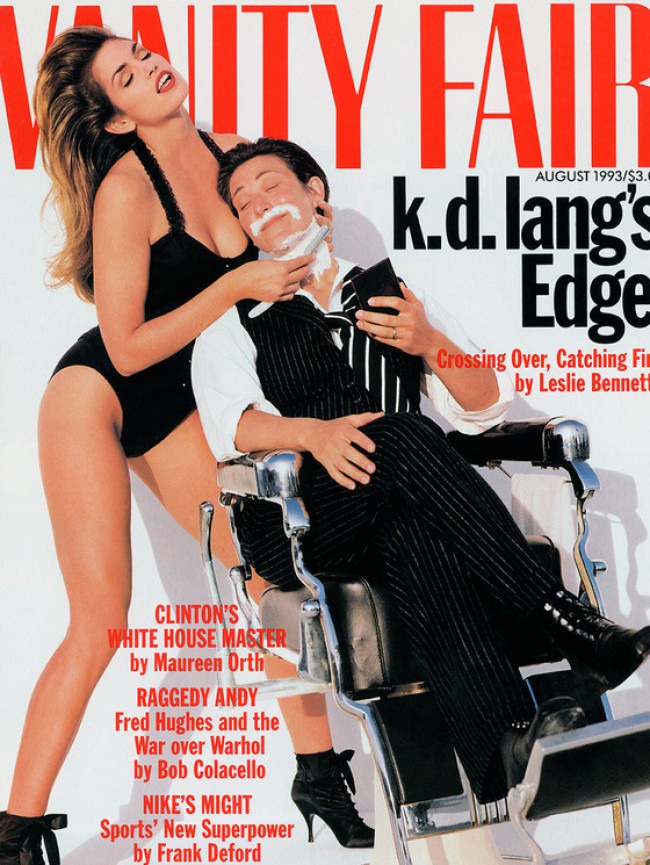 K.D. LANG AND CINDY CRAWFORD ON VANITY FAIR
Herb Ritts photographed supermodel Cindy Crawford and musician K.D. Lang for the Vanity Fair August 1993 cover. The cover was controversial because Lang had recently come out as a lesbian and Crawford is shown shaving the musician as she is dressed seemingly as a man. Gender bending in the 1990s? A very controversial move. Nowadays, no one would bat an eyelid.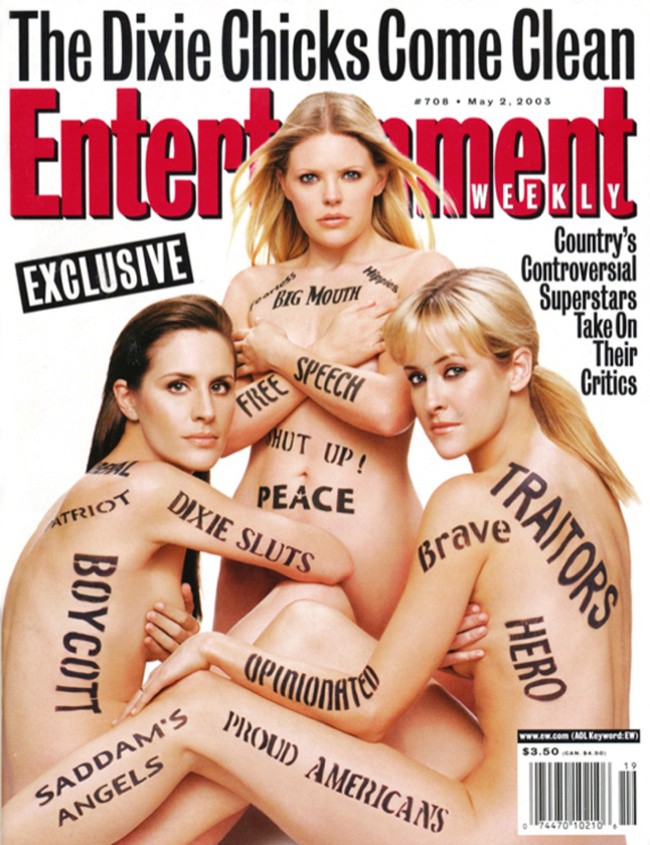 THE DIXIE CHICKS ON ENTERTAINMENT WEEKLY
First the controversy started when the Dixie Chicks came under fire in 2003 for speaking out against then President George W. Bush and the invasion of Iraq. The country group's songs dropped from the Billboard charts and a boycott was called for their music after their comments. They later covered Entertainment Weekly's May 2003 issue naked with shocking phrases (both negative and positive) painted on their bodies. Nowadays? It would be a story for a few days and then the public would move on.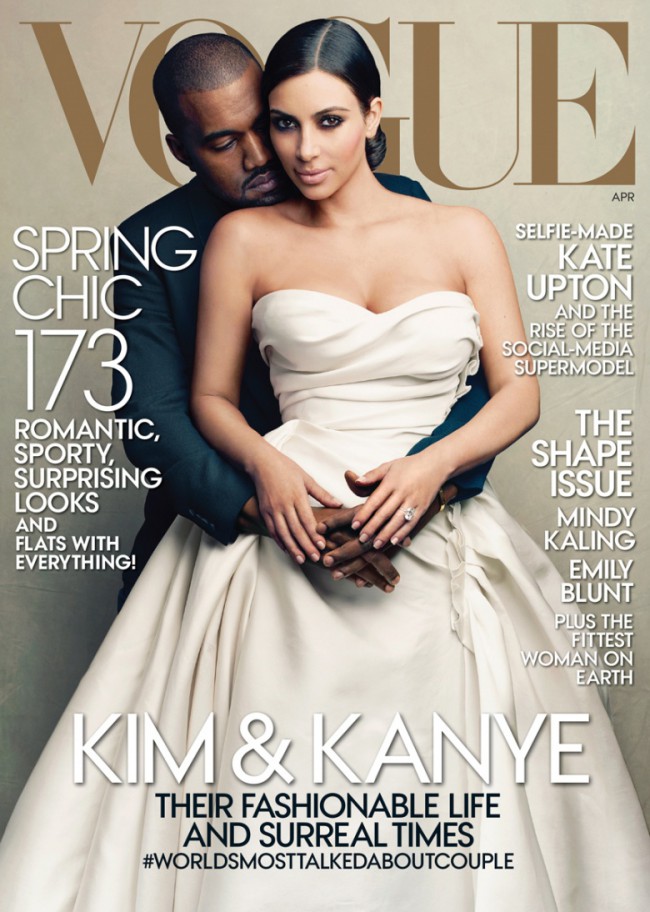 KIM KARDASHIAN & KANYE WEST ON VOGUE
This time the controversy has nothing to do with clothing or lack thereof. The Kimye (aka Kim Kardashian and Kanye West) Vogue cover had people in an uproar over the status of the magazine. With the female in question's fame stemming from a reality show and before that a sex tape–many were questioning how such an esteemed magazine could put such a controversial figure on the cover. For others, their fame and the fact that they're talked about so much makes them worthy of the cover.
RIHANNA ON LUI MAGAZINE
Now, you can't just stir up controversy by appearing almost naked. You have to actually be naked. Rihanna was banned from Instagram after posting an uncensored version of her Lui Magazine cover photographed by Mario Sorrenti – Lui is an erotic magazine from France. Besides the Instagram ban, it's shocking seeing a pop star go full on topless.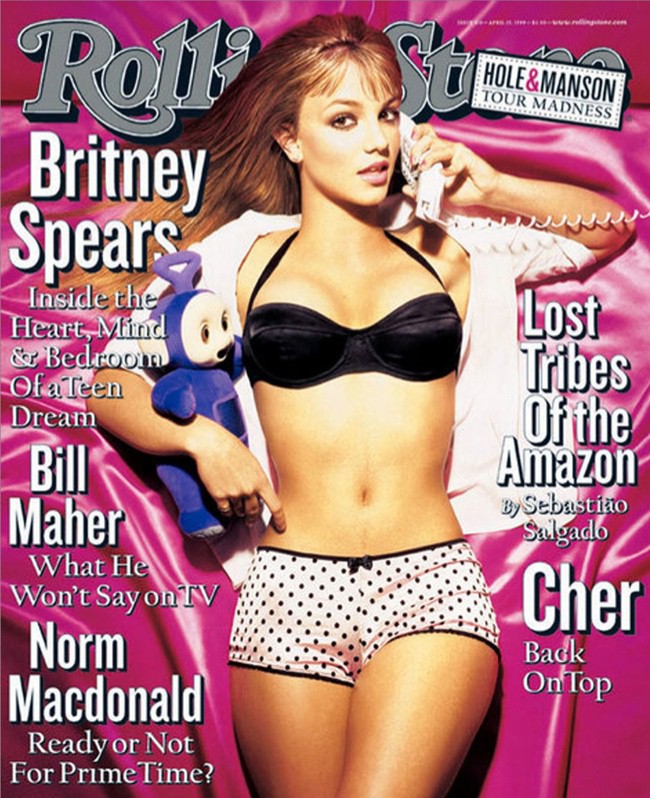 BRITNEY SPEARS ON ROLLING STONE
At 17-years-old, pop star Britney Spears raised eyebrows with a provocative Rolling Stone April 1999 Cover where she is seen posing on a bedroom in lingerie looks. Critics were not fans of a young teenager being sexualized in such a manner. Now? Have you seen what some seventeen year olds wear? How times have changed!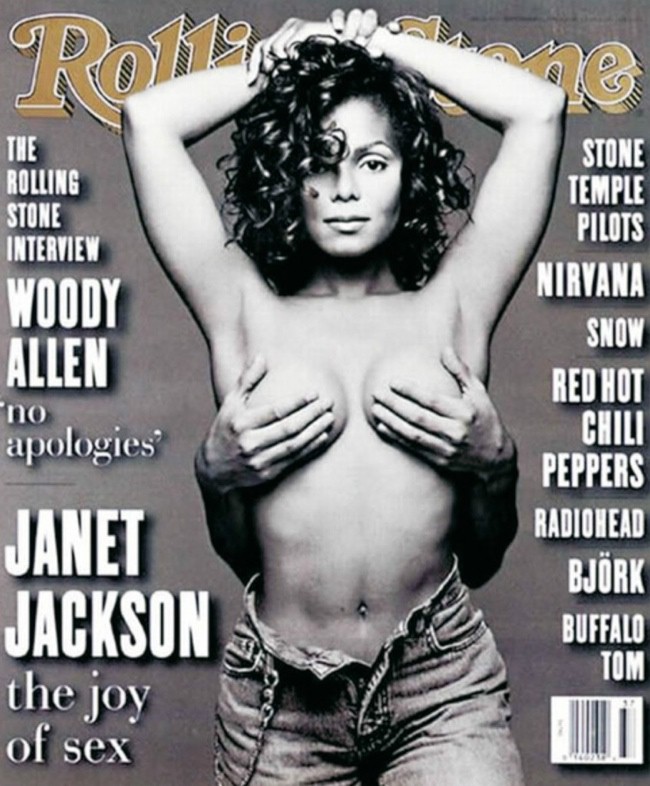 JANET JACKSON ON ROLLING STONE
Breaking out from her sweet girl persona, pop star Janet Jackson covered the September 1993 issue of Rolling Stone posing naked with a man's hands (her then husband's René Elizondo Junior) cupping her breasts. Not so controversial for the 2010s, but back then it was risqué.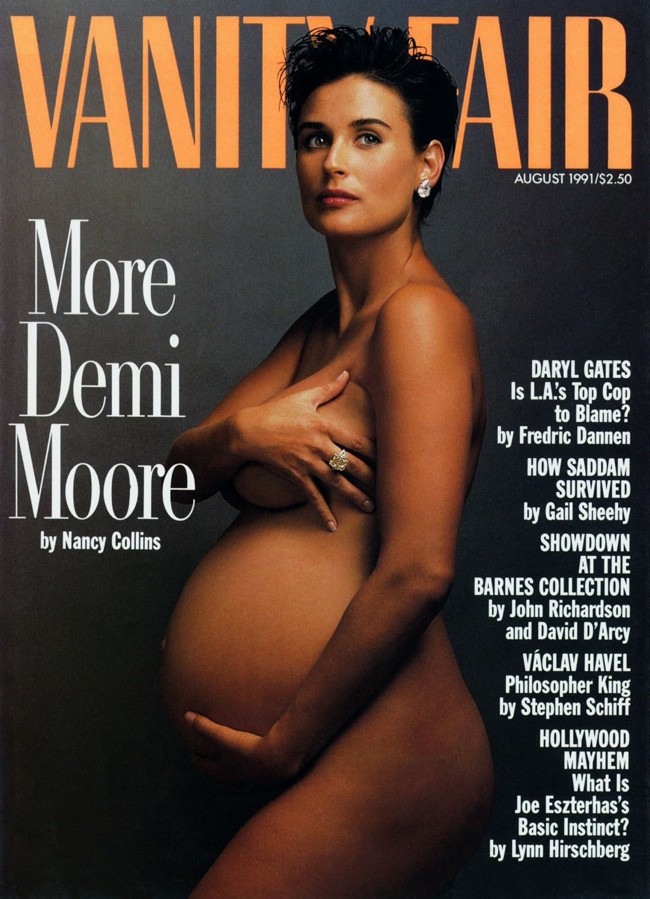 DEMI MOORE ON VANITY FAIR
Controversial at the time, actress Demi Moore posed nude on the August 1991 issue of Vanity Fair. Critics called it provocative and even pornographic by portraying a pregnant woman as sexual. While others praised the image for showing the beauty of pregnancy and the female form. Since then, plenty of celebrities have copied the pose–from Britney Spears to Jessica Simpson. So, not so controversial after all!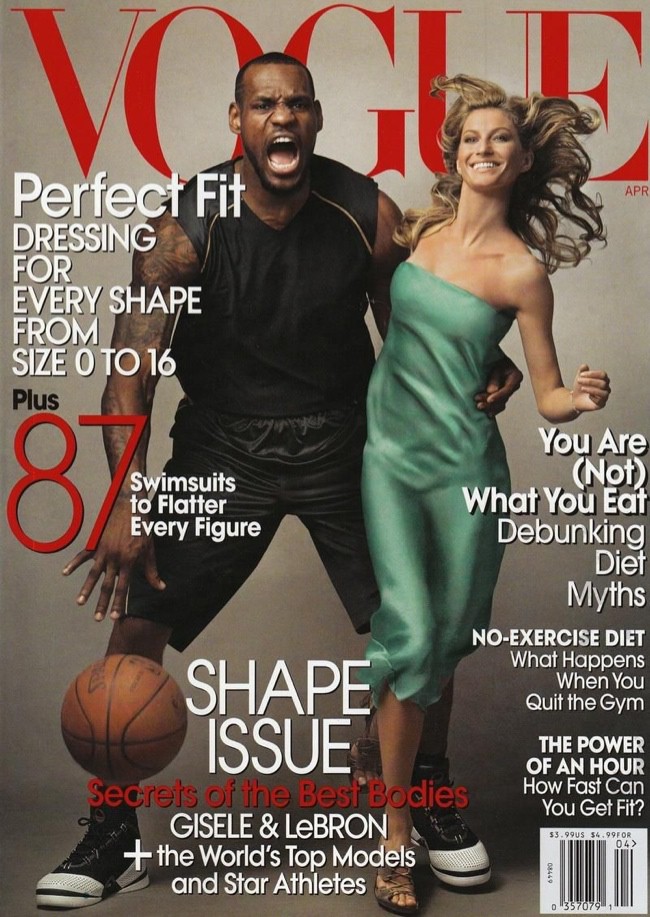 LEBRON JAMES & GISELE BÜNDCHEN ON VOGUE
Basketball star LeBron James and supermodel Gisele Bündchen offered a controversial cover for Vogue's April 2008 issue. James can be seen screaming (angrily?) on the image while Gisele appears smiling in a green dress. Critics of the cover called it racist for being similar to imagery from "King Kong", depicting an angry black man posing alongside a helpless white woman.
YOKO ONO AND JOHN LENNON ON ROLLING STONE
Seems like Rolling Stone is no stranger to courting controversy. The January 1981 cover photographed by Annie Leibovitz, featuring Yoko Ono and John Lennon was taken the day Lennon was killed. Not only was it shocking considering the sad timing but for a man to appear nude while the woman is clothed? We don't see that too often–even now.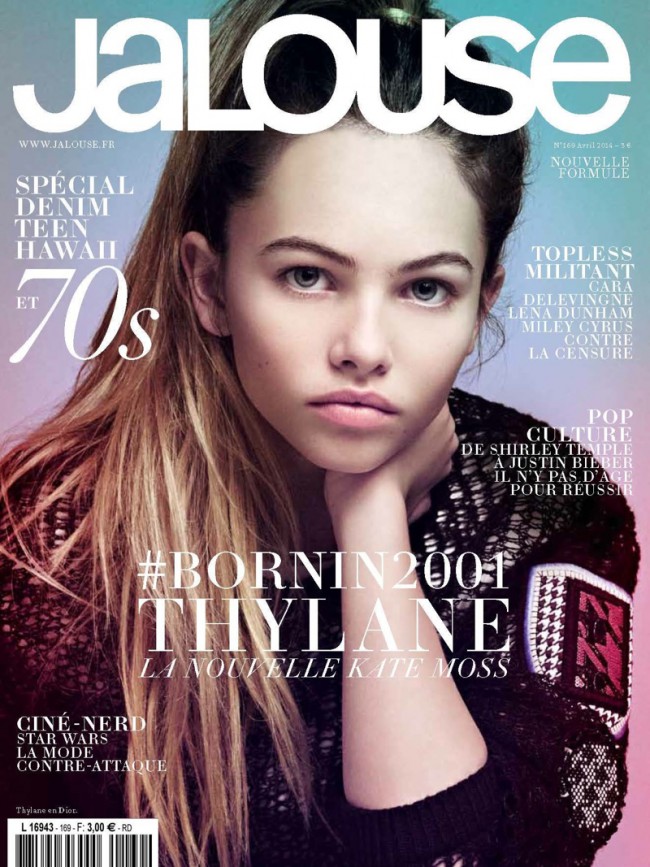 THYLANE BLONDEAU ON JALOUSE
At 13 years old, French model Thylane Blondeau covered French magazine Jalouse. The publication named the pre-teen the new Kate Moss. What makes this so controversial is not only a pre-teen covering a women'smagazine, especially in a time where a lot of publications and labels are pushing for the minimum age of models wearing women's clothes to be 16. But also Thylane was in the center of controversy a few years ago for posing in a Vogue Paris editorial where critics called out the editors for sexualizing a 10-year-old.