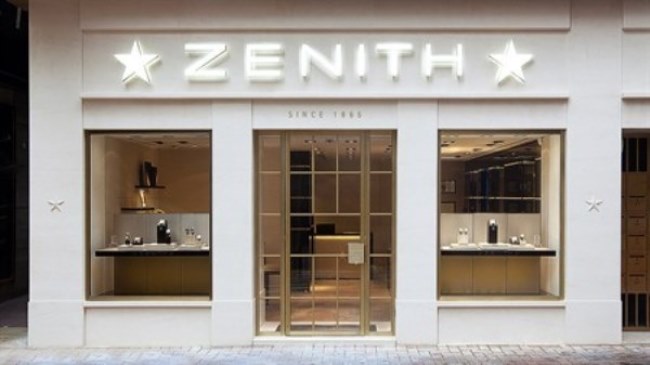 Swiss watch manufacturer Zenith unveiled its first Hong Kong boutique on July 11. Located just steps away from Time Square in Causeway Bay, the new concept store is the first in the world to feature the new design Zenith has developed for its boutiques.
The glass panes-studded geometrical storefront is framed by two large stone columns, while the frontispiece proudly bears the Zenith star, emblem, as well as '1865' – the year Georges Favre-Jacot founded the company.
The subtle play on horizontal and vertical lines extends to the interior of the store, where the star gets a minimalist re-interpretation in the displays, counters and exhibitions. Meanwhile, the rich blend of wenge wood and Chantilly stone creates a refined contrast between a deep chestnut brown and a luminous matt creamy shade. A series of photos, while showcasing the expertise of Zenith's watchmakers, provides an artistic finish to the elegant set up.