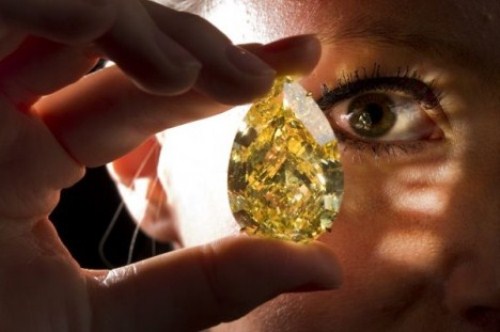 A 110-carat yellow jewel called the Sun Drop Diamond, thought the biggest of its kind in the world, sold for a record 10 million francs ($10.9 million) at auction in Geneva.
The gem was discovered in South Africa in 2010 and wowed visitors to London's Natural History Museum where it was displayed earlier this year.
"It's an absolute record for a yellow diamond," Sotheby's David Bennett told journalists after the sale. "It is a spectacular, unique stone."
The sale price was slightly less than the estimations of experts who had valued the yellow diamond at between 11 and 15 million dollars.
Gemologists have certified the pear-shaped jewel as "Fancy Vivid Yellow", the rarest and most desirable colour for a yellow diamond, Sotheby's said.
The yellow diamond, about the size of a woman's thumb, takes its colour from traces of nitrogen in its carbon makeup.
Following its discovery the gem was cut in New York by US diamond company Cora International and spent a number of months on public display.