Markus Langes-Swarovski and Kyung Song at the launch event
So far this year, it has wowed audiences in Beijing, Shanghai, Taipei, and Las Vegas. Now, for the first time, the dazzling World Jewelry Facets exhibition by Swarovski, is rolling into the South Korean capital, Seoul. From September 10–15, Horim Art Center—the artistic landmark that is the beating heart of the city's cultural district, Gangnam — is playing host to cutting-edge Korean talent, as well as a curated selection of top international designers.
Within Horim's inspirational space, the exhibition fuses fashion jewelry by top international designers with national culture. Displayed as a reinterpretation of a traditional Korean feast, it showcases beautiful pieces that celebrate the key events in a woman's life. Life of a Woman follows her from birth, represented by colorful pieces; through her coming-of-age in an up-styled, bejeweled hairdo; to her wedding, a statement of purity featuring ultra-whites accented with translucent Hanji paper, and a Gama, the traditional Korean palanquin. This celebration reaches its high point on her sixtieth birthday with exquisite jewelry that expresses her achievements, wisdom, and grace.
Another treat for visitors is the exclusive Cadenzza pop-up store. Since its launch in January, this revolutionary fashion jewelry concept has opened retail outlets in the UK, Germany, China, and Austria. Look out for two further pop-ups in Shinsegae Gangnam and Shinsegae Centum in October, with a permanent store set to open in 2014. It will change forever the way we shop for jewelry.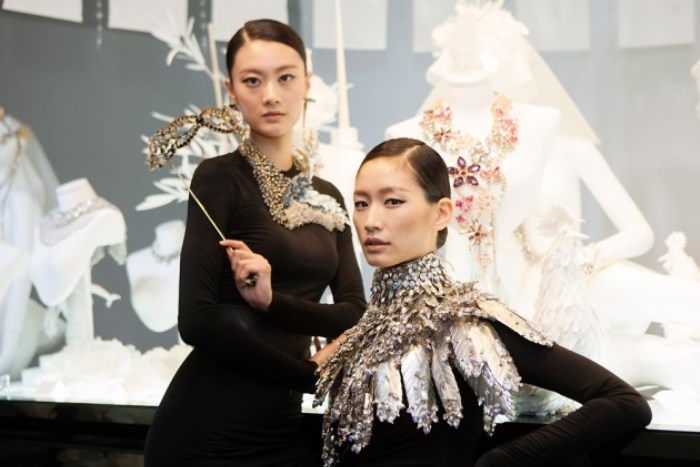 Models wearing necklace by Gache and mask by Philipppe Ferrandis (left), necklace by On Aura Tout Vu (right)