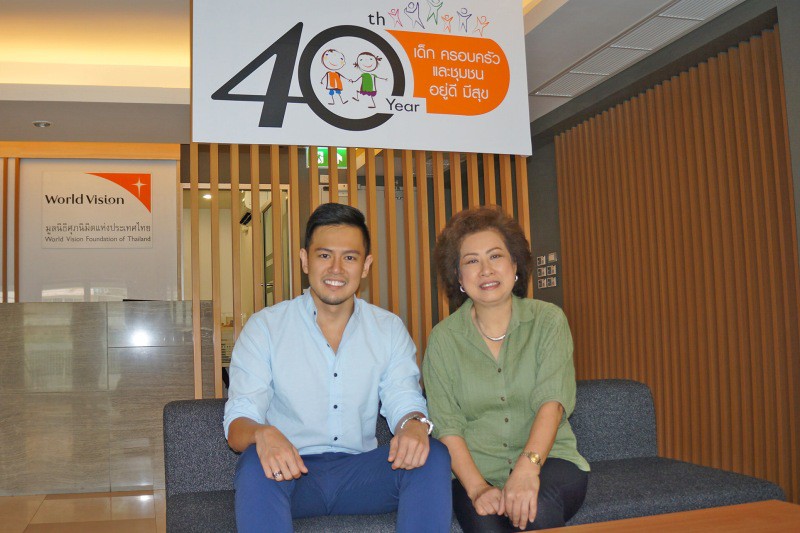 Herbert Rafael, Founder of WardrobeTrendsFashion, alongside Mrs Chitra Thumborisuth, National Director of World Vision Foundation Thailand (WVFT)
SINGAPORE, August 20, 2014 – Today, Asia's high fashion and luxury online magazine, WardrobeTrendsFashion announces their support for World Vision in a strategic multi-year partnership. The partnership is an initiative by WardrobeTrendsFashion, to provide pro-bono support for World Vision Foundation Thailand (WVFT)'s various projects with specific focus for the 'Child Sponsorship Programme'. This partnership forged is coincides with WVFT's 40th anniversary.
"WVFT was officially registered as a foundation in 1974, a year after I joined. World Vision International first began its ministry in Thailand in 1972 sponsoring orphans in Udorn Thani and child care protection in Petchaburi with only five staff members. A lot has changed in 40 years," shared Mrs Chitra Thumborisuth, National Director of World Vision Foundation Thailand (WVFT).  "WVFT currently works in 45 provinces across Thailand, has 793 staff members, and sponsors 102,617 children. We have had the opportunity to see sponsored children grow into successful adults. Many sponsored children return to volunteer with us later in life or sponsor other children."
"I am glad to support WVFT's vision – to see life in all its fullness become a reality for every child," said Herbert Rafael Sim, CEO and Founder of WardrobeTrendsFashion. "Seeing the smiles and hope in children's faces, and helping them achieve their dreams, is a calling that also resonates with my personal philosophy to 'follow your heart, and chase your dreams'."
WVFT seeks for sponsors who can provide continuous donation of 650 baht per month for the 'Child Sponsorship Programme'. The donations go to improving the lives of children, families and community. The children receive school materials, vocation skill-based training and an opportunity to continuously pursue education to a higher level.
—————————————————-
World Vision
World Vision Foundation of Thailand (WVFT) is a Christian humanitarian and development organisation dedicated to helping needy children, families and communities. At the moment, WVFT is working through 75 area development programmes in 46 provinces in all regions of Thailand. World Vision serves all people regardless of religion, race, ethnicity, or gender. For more information, please visit www.worldvision.or.th media and follow them on Twitter @WVAsia.
About WardrobeTrendsFashion
WardrobeTrendsFashion, also known as WTF, is a high fashion and luxury online portal, featuring fashion lookbooks, campaigns and runway collections; luxury news in the different industries – automobile, aerospace, nautical, dining, watches, jewelry, technology; celebrity news, interviews; as well as charity – activities, events, campaigns by NGOs and Non-profit organizations. WTF strives towards being one of the world largest repository of fashion labels' campaigns and lookbooks from across the globe.
WTF readers are international and are mostly from the upper echelons of the business world, C-level executives, experts and personnel from the fashion industry, film industry, and more. WTF is accessible via domain urls, WardrobeTrendsFashion.com and WTFSG.com.
Media contacts:
WardrobeTrendsFashion
Media Rep
wardrobetrendsfashion@gmail.com
World Vision Foundation of Thailand (WVFT)
Communications Division
info@worldvision.or.th