If you are looking for the best online fashion shopping websites, you must be fallen in love with this convenient way of shopping. Online shopping has become as fashionable as the nature of fashion.
Is there anything better than staying at your convenient place and embarking on a thrilling journey through many colourful fashion blogshops where you eyes will be treated with a feast of fascinating fashion styles? Forget about operating hours, unfriendly shopkeepers, queuing or the crowds and focus on hunting for your desired items.
With online fashion stores, there are no limits of time and space in shopping activities. And with the best online fashion stores, shopping is taken into a new level where the convenience complements perfectly with product quality, fashion tastes and the number of fashion collections.
If you want to have great online shopping experiences, visit the below introduced websites. They have been recognized as the best online fashion stores in Singaporeby many fashionistas.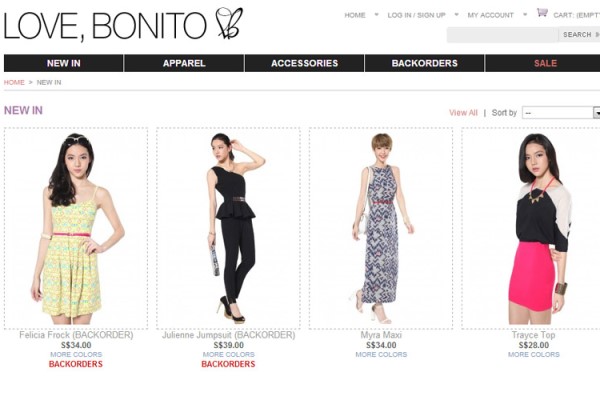 (Image: Love, Bonito)
Key attractions
Full of fashionable designs: Founded by three well-known fashionitas Viola Tan, Rachel Lim, and Velda Tan, Love, Bonito knows the fashion market well and always focuses on bringing trendy and unique designs to ladies. This famous online shop offers a myriad of collections to suit various needs of customers on every occasions. New items are introduced weekly to keep Love, Bonito's fans updated with the latest trends.
Providing high quality products: Using good materials, Love, Bonito products are at high-quality, comparing with other online stores'. The clothes will still look fine with shapes and colors remained even after many washes.
Excellent customer service: Love, Bonito is famous because of not only its products but also its efficient customer service. Customers' queries or requests are handled promptly and professionally. The shop also provides credit refund via credit note if you are not satisfied with purchased products.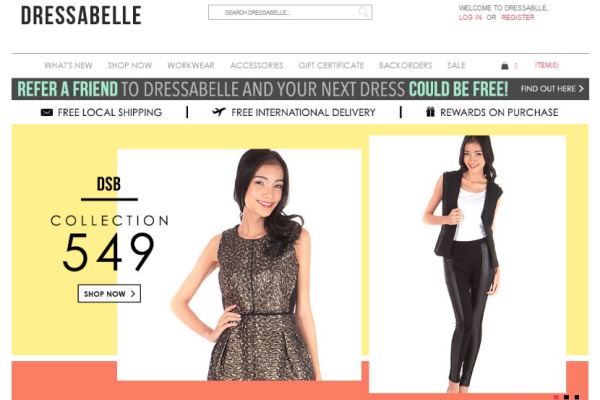 (Image: Dressabelle)
Key attractions
A myriad of designs for working ladies: Featuring a great selection of fashionable office wear is the main draw of Dressabelle. Beautiful and trendy collections are introduced twice weekly so ladies, no matter whether you are a sale executive or a designer, you will always find suitable office dresses whenever you browse its website.
Providing comprehensive product information: Dressabelle does a great job in providing goods information on its website, including product size chart, product feature, cloth material, apparel info and care, and size of the apparel model wearing. This information is really useful in helping customers to visualize and estimate products before making purchasing decisions.
Free shipping for normal postage: While other online shops charge a minimum shipping fee, Dressabelle provides free delivery via Singpost normal mail (untrackable delivery) for all orders. Free shipping also applies for registered mail (trackable delivery) for orders more than S$100.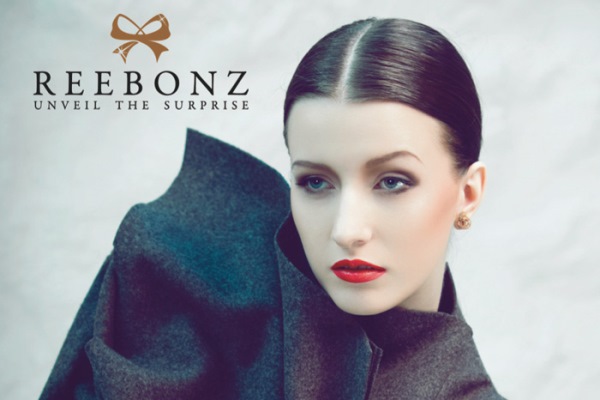 (Image: Reebonz)
Key attractions
A true shopping paradise for label lovers: Where else in Singapore do luxury brands offer at competitive prices? Only at Reebonz online fashion store you can get authentic world-class fashion goods at the prices that are cheaper than at bricks and mortar shops. Products are quality-guaranteed and always come with original boxes, authenticity cards, dust bags and manuals.
Luxurious shopping experience for luxury goods owners: Reebonz takes its customers through a pleasant shopping experience from the time shoppers visit its online store to the moment they feel satisfied with the purchased items. With the shop's efficient business operations and partnership with professional third parties in handling customer orders, such as Fedex and Liberty Insurance, this reliable online shop guarantees a hassle free shopping experience and reimburse a full replacement value if items are lost, stolen or damaged during transit.
Flexible payment by installments: The shop offers 0% interest installment payment plans to customers via credit cards from these banks: DBS, UOB, OCBC, HSBC, citiBank, and Maybank. You can choose to pay within 6 months or 12 months; 24 months plan is only available for DBS credit cards.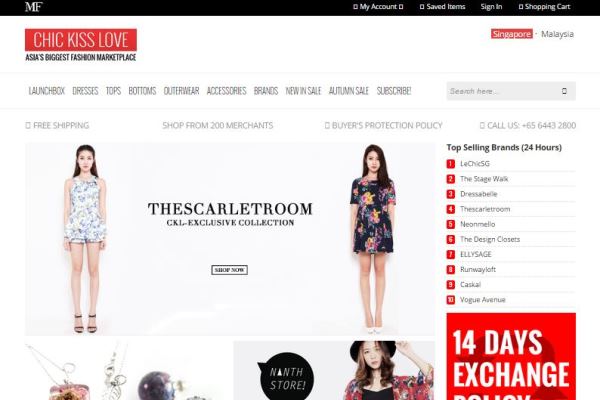 (Image: Chic Kiss Love)
Key attractions
Home to hundreds of different online fashion sites: Chic Kiss Love is definitely a unique site in the world of online fashion websites. What make Chic Kiss Love totally different from others? If you browse this only-one-of-its-kind site for a while, you will quickly realize that Chic Kiss Love is not a fashion store itself, it is home to hundreds of different online shopping sites instead. Shopping with Chic Kiss Love opens up plenty of opportunities to get your desired items from various blogshops easily and conveniently. Whether you are looking for dresses, tops, bottoms, swimwear, or even lingerie, this home site with a huge range of fashion blogshops will satisfy your needs. The act of jumping from site to site for searching a fashion item is not necessary since the time Chic Kiss Love has been born.
Affordable prices: Chic Kiss Love product prices are very competitive and affordable, customers can purchase a lots of items at low prices at its "reductions category" or during flash sale events held weekly. Sometimes you can get good quality products at below S$10.
Buyer's protection scheme: All shoppers at Chic Kiss Love are protected under its buyer's protection scheme in which the site ensures customers will receive their purchased products correctly and defectively. The protection period is valid within 14 days, you will get your money back if the purchased products do not match the item description or delivery process is failed at any steps.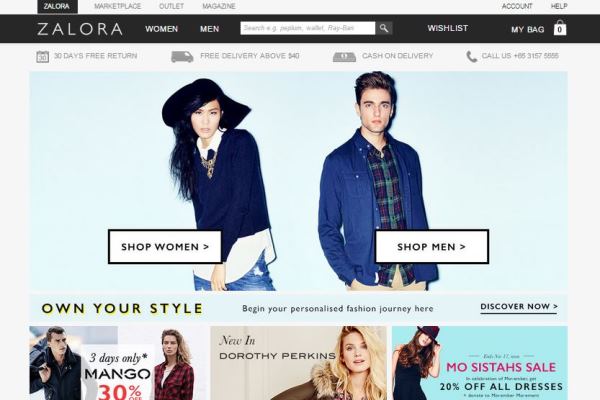 (Image: Zalora)
Key attractions
A wide range of fashion collections that suit any tastes: The huge quantity of Zalora's fashion collections is something to marvel at. You can rest assured that whether you are looking for a trendy casual wear or an elegant formal dress, Zalora has them all. If there are any doubts, just browse its website to have a look at myriad fashion collections, including womenswear, menswear, sportswear, beachwear, footwear, bags, accessories, and beauty products.
Great return policy: Zalora provides an excellent return policy to all customers that allows shoppers to return the purchased products within 30 days of receipt date without any requirements of explanation or reasons. No questions asked; you can simply return the items to get back full refund should you change your mind. Furthermore, unlike shopping at other online stores where you need to bear the cost of return, Zalora offers free return shipping by providing pre-paid shipping labels in all order packages. Customers can use these labels to return the parcels at any SingPost offices at their convenient time.