WardrobeTrendsFashion's 2016 Top 100 Fashion Schools list, includes a ranking of the World's Top 100 Fashion Schools, based on a methodology that assesses academic reputation, employer reputation, quality of teaching, and diversity. The WardrobeTrendsFashion Magazine's Top 100 Fashion School Rankings has been conducted annually since 2012. Over the past couple of months, we conducted a survey to find the best fashion schools in the world. To generate the list, we surveyed more than 79,000 former students, fashion houses, fashion recruitment consultants, fashion designers, and industry professionals.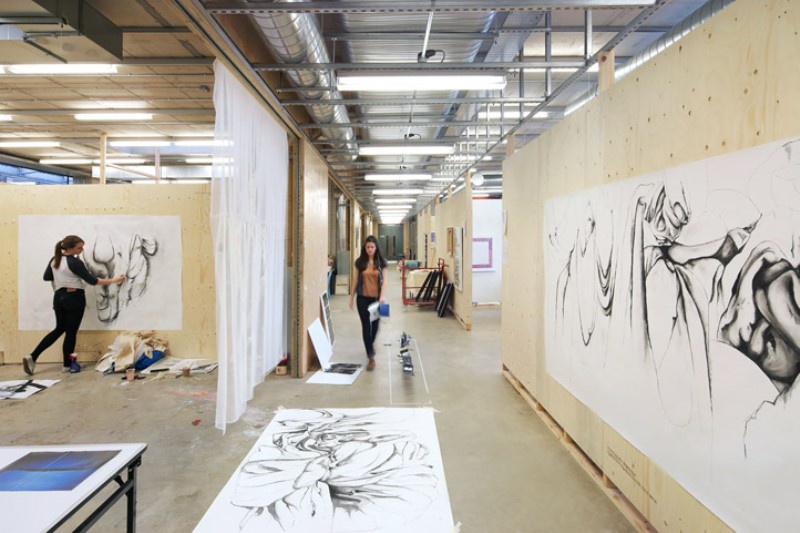 (Photo: UAL Campus for Central Saint Martins via Stanton Williams)
WardrobeTrendsFashion today announced the 2016 Best Fashion Schools rankings, featuring top-performing fashion institutions in the World. The Best Fashion Schools rankings evaluate data on more than 300+ fashion schools. Studying in a world-renowned fashion school is practically everyone's dream. A shortlist of 100 top fashion institutions have been ranked according to 3 factors: learning experience, influence, and value.
However it is not an easy task to decide which of these elite colleges you want to be in. WardrobeTrendsFashion's rating is based on a simple and pragmatic survey that asked how valuable each fashion school's program really is; WardrobeTrendsFashion 'Fashion School Rankings' is designed to help prospective students navigate this increasingly complex fashion education landscape. The tenets of our methodology remain the same, but each year we aim to refine. This year, the factors we have considered include:
Annual tuition: Art and design schools are generally expensive, although tuition can vary drastically and, at many colleges, it increases each year. The number you see on each college's page does not include room and board and incidentals. While tuition is not the most heavily weighted category on our list of criteria, we did factor the cost into our rankings as it relates to the cost of living in the area where the corresponding school is located.
Famous & successfully placed alumni: Famous alumni are something that we consider, yes, but we also reward schools with great placement rates. Just because a school hasn't produced a marquee name (yet) doesn't mean it isn't good. Every single one of these schools has placed students in major fashion houses, commercial labels and other important fashion businesses. Behind every Alber Elbaz, Nicolas Ghesquiere and Alexander Wang is a talented support staff helping to ensure everything runs smoothly. And getting paid good money to do it.
Student and alumni feedback: We surveyed thousands of past and present students about their experiences at each school.
Other measurements: We also considered the quality of the faculty, the practical and business training on offer, social life, career counseling and financial aid options.
Others of note: We spend hours upon hours researching and reporting on these schools — each school name below links to a page detailing our findings. No list is entirely scientific, but it is objective. Keep this in mind if you don't see your favorite school here or disagree with the ranking your alma mater received.
London's Central Saint Martins (CSM), takes the No. 1 spot, followed by London College of Fashion at No. 2 and New York based Parsons School of Design at No. 3. All of these schools are comparable in terms of academics, quality of staff, and amazing campuses. Compare it versus last year's 2015 ranking.
This year we have went even more rigorous and in-depth with our research compilation, we have put together a rundown of the top fashion schools in the different regions of the world. In our Best Fashion Schools in Europe 2016, of which it is concluded that United Kingdom has established itself as home to many of the best fashion schools in the world.
Five schools from Asia made it into the Top 100, namely Bunka Fashion College (Japan), Raffles Singapore, Beijing Institute of Fashion Technology (China), and of the five schools that made it into Top 100, two are from India – Pearl Academy and National Institute of Design. In an in-depth research compilation of the Best Fashion Schools In India – 2016 Ranking, we have a rundown of the top 30 fashion schools in India that hold high esteem in the eyes of many aspiring fashion designers in India for the Indian fashion industry.
Last but not the least, our research compilations of the Best Fashion Schools In China – 2016 Ranking, shows that China is slowly shifting to being a creators market from being a producers market. What happens in China, no longer stays in China.
Discover the top 100 fashion schools worldwide with WardrobeTrendsFashion in the table below.

————————————————————————
2016 Top 100 Fashion Schools In The World
————————————————————————
WardrobeTrendsFashion Award Winner Logos
If you use this logos to signify your WardrobeTrendsFashion wins in the 2016 Top 100 Fashion Schools In The World you agree to use them AS IS. You agree to NOT alter them in any way, other than to resize them. If you wish to render an altered version of one or more of these logos you must first receive approval from us.
If you use this logos online, please link it to open to this url http://wardrobetrendsfashion.com/top-100-fashion-schools-world-2016-ranking/ in a new tab or browser window.
The .PNG files are sufficiently high-resolution for print production.