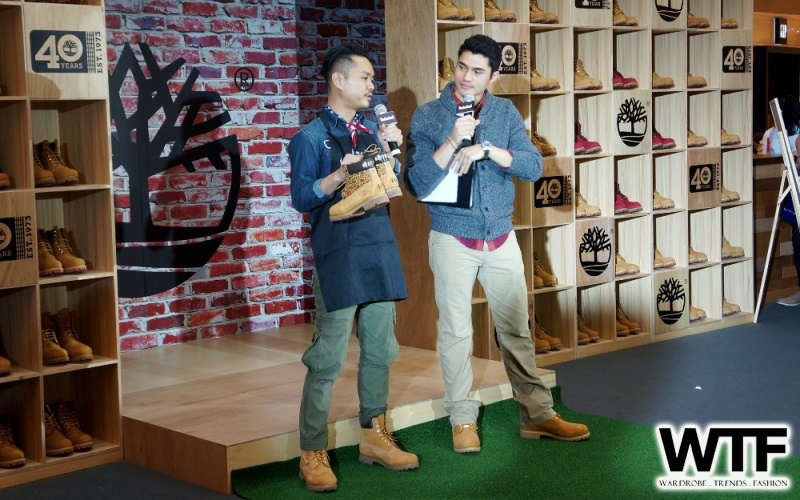 The Timberland 40th Anniversary Limited Edition Collection celebrates the brand's 40 years of heritage and craftsmanship in the business of boot making.
Attended by over 100 guests, the event held at Vivocity hosted members of the media, fashion stylists and guests of Timberland® Singapore.
Well-known personalities including stage thespian Adrian Pang, television host, Oli Pettigrew, Linda Black, award winning local filmmaker, Royston Tan, Y.E.S 933 DJ, Xie Jia Fa, fashion director, Daniel Boey as well as up and coming actor, Xu Bin were amongst the invited guests.
Three invited local artisans and craftsmen introduced their crafts in a host of experiential activities. Consisting of Mark Ong from the international cult creative label SBTG (Sabotage), Tyrwhitt General Company and accomplished artist Khor Tuck Kuan.
Guests got hands deep in traditional craft-making such as silk-screening and leather stamping as well as cutting out plastic doves from recycled milk bottles under the impressive Project Soar, an art installation made up of numerous plastic cut-out doves.
Style Icon, Lionnel Lim was also present to offer up fashion and style tips on how to pair up your Timberlands perfectly with your ensembles to compliment your unique style.
Each guest walked away delighted with their very own pair of yellow boots, possessing a piece of Timberland Heritage which allowed them to experience the authentic and quality craftsmanship which consumers love and identify with.
Check out Timberland's Full Limited Edition Collection Here