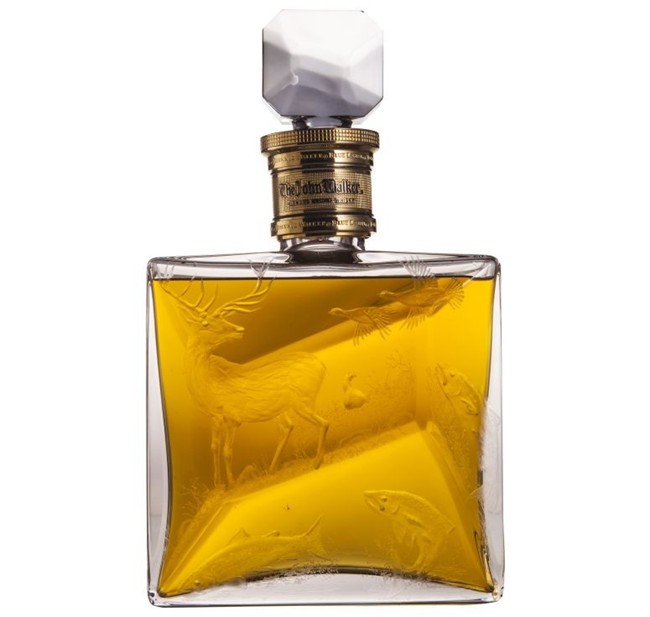 If you can't resist special edition whisky bottles, you're going to love The John Walker Philip Lawson Johnston Limited Edition – a series of limited hand-engraved creations of The John Walker. This one-time-only release is the product of a collaboration between John Walker & Sons, Scotch Whisky Distillers By Appointment to Her Majesty The Queen, and Philip Lawson Johnston, Specialist Hand Engraver of Glass By Appointment to Her Majesty The Queen.
Inspired by its Scottish roots and classical Scottish tradition, The John Walker Philip Lawson Johnston Limited Edition boasts two iconic designs – the scene of the "Classic MacNab" Challenge from Scottish novel "John MacNab" and the "Distillery Heritage", paying homage to the art of whisky making. Only a limited number of bottles bearing these two designs are created, with each of the bottle delicately handcrafted by Johnston.
CLASSIC MACNAB
Based on the classic novel "John MacNab" by John Buchan, the "MacNab" Challenge is the embodiment of quest and ardent adventure, a perfect match that signifies the pioneering spirit of the Johnnie Walker brand and its visionary founder, John Walker. Set in the remote Scottish Highlands where all three species roam free, the masterful engraving reveals salmon, stag and grouse in vivid, untamed beauty and pays tribute to the heritage of Johnnie Walker, whose legacy lies in unparalleled flavours drawn from the four corners of Scotland.
DISTILLERY HERITAGE
The distillery, carved on this limited edition bottle, has a rich 185-year old history and heritage that is famed for producing one of the best single malts in the world, including the Johnnie Walker blends. Reflective of the art of whisky making, the distillery is impeccably engraved as an iconic landmark perched on the shore of Loch Harport, set against the scenic grandeur of the Cuillins Mountains, together with the copper still, barley and peat.
"It is truly a privilege to witness Philip, one of the finest hand engravers of glass and Jim, one of world's most respected whisky blenders, two extraordinary craftsmen, come together in this once-in-a-lifetime opportunity to create beautiful, bespoke pieces of The John Walker, skilfully engraved as art pieces that will appeal to and be coveted by like-minded luxury consumers…Where the craft of glass engraving meets the craft of whisky blending, this unique collaboration fittingly encapsulates our vision in taking the art, craftsmanship, heritage and creativity of Scotch Whisky to the four corners of the world." said Lawrence Law, Global General Manager, Johnnie Walker House.