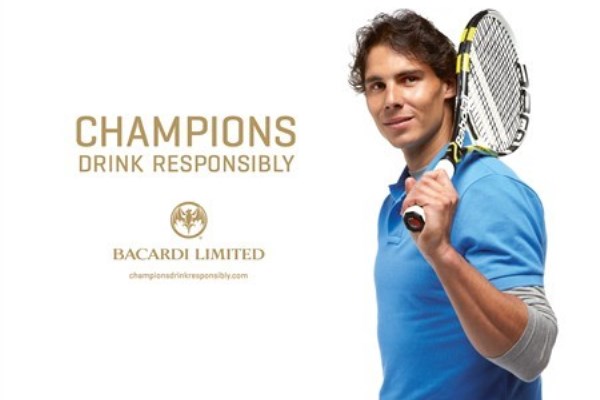 Bacardi Limited, the largest privately held spirits company in the world, announced that it has nominated tennis pro Rafael Nadal as their new Global Social Responsibility Ambassador. Winner of nine Grand Slam titles, the ATP World Tour champ is the new face of the Company's award-winning responsible drinking campaign, 'Champions Drink Responsibly'.
Commenting on their new ambassador at the global launch event in Miami on March 22, Bacardi Limited President and Chief Executive Officer Séamus McBride said, 'We are very excited to welcome Rafa to the Bacardi family as our new Global Social Responsibility Ambassador.'
'Rafael Nadal is a world champion at the top of his game whose lifestyle and dedication reflects the values of our Company and this campaign. His global appeal makes him the perfect champion and role model to help us continue to spread the message that we should all know "where to draw the line" when it comes to drinking.'
Together, Rafael Nadal and Bacardi Limited will exhort the importance of responsible drinking through a global, multi-faceted campaign. The campaign will make use of advertising, public relations, consumer experiential initiatives and social media platforms, including a dedicated YouTube channel and, for the first time, a Facebook page to engage and inform their consumers about conscientious alcohol consumption.
'I enjoy socializing with my friends and family and drinking responsibly is important no matter what your game is,' said Nadal. 'That is why I'm teaming up with Bacardi Limited as I want to take the lead in promoting social responsibility to fans and consumers around the world.'