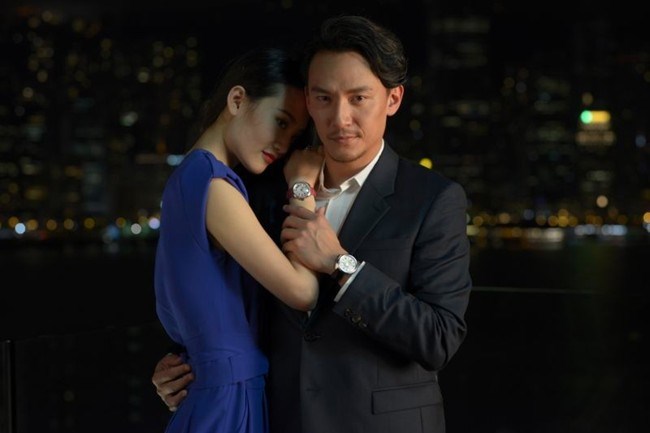 As part of its long-term global partnership with Cartier, T Galleria by DFS shares a tale of love, time and travel to mark the arrival of the latest edition to the Clé de Cartier watch collection. The stunning latest editions, in 18K gold and steel will be pre-launched exclusively at T Galleria by DFS stores this summer. The 90 seconds long film, set in bustling Hong Kong, opens inside the second floor watch gallery at T Galleria by DFS, Hong Kong, Canton Road and follows Asian star Chang Chen, known for his memorable roles in "The Grandmaster" and "The Assassin," as he pursues a secret romance with his leading lady amid the flashing cameras and clashing schedules of celebrity.
Told through a series of stolen glances, handwritten notes and fleeting moments, the story culminates with the couple's climactic rendezvous on a rooftop garden with their matching Clé de Cartier watches on their wrists. This exclusive short film debuted at T Galleria by DFS stores and TGalleria.com on July 1.
"Following the success of our Clé de Cartier pre-order program worldwide, DFS is delighted to partner once again with Cartier for its first film collaboration with a travel retailer, featuring Chang Chen…Exclusive partnerships, like our relationship with Cartier, ensure compelling DFS brand experiences for our customers, inside and outside of our stores as well as online and through social media." said Christophe Chaix, DFS Group Senior Vice President of Global Merchandising for Watches, Jewelry, Accessories and Sunglasses.
Considered one of Cartier's most significant watch collections since the release of the Ballon Bleu in 2007, Clé de Cartier is an icon-in-the-making. Its name comes from its signature crown shape, which resembles a key, or "clé" in French. First introduced at SIHH 2015 and designed to fit both men and women, the Clé de Cartier collection follows the Maison's heritage of innovation and is inspired by contemporary architecture. The watch features a novel case shape that incorporates a perfect circle within an arched profile, a guillauché dial with blue Roman numerals and automatic movements, including the new 1847 MC movement for the 35mm and 40mm models.