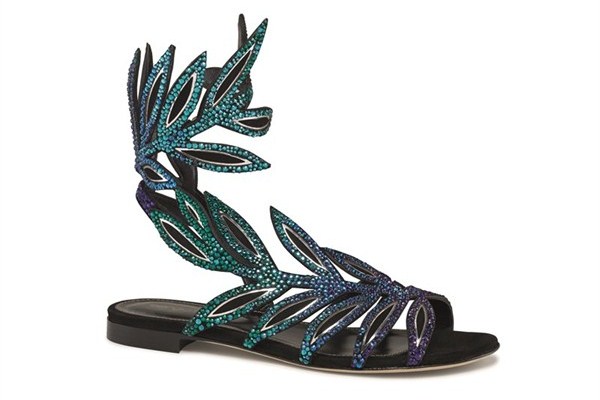 The Sergio Rossi Spring/Summer 2014 Collection has been unveiled – ladies, prepare for your wallets to get considerably thinner, as this is a stand-up array of strappy sandals and eye-catching pumps guaranteed to make you the talk of the town.
The collection is based on two themes inspired by the aesthetics of the 1970's: the natural world and seeing the world through a kaleidoscope, creating shapes and reflections.
The natural elements are represented by the use of bamboo in sculptural sandals, contrasted with metallic details, or in a more in-your-face way with giraffe and zebra print gladiator style sandal boots made from stingray leather.
The kaleidoscopic inspiration works to add optical illusions, such as soutage embellishments or abstract camo patchwork. The brand uses vibrant and electric colors that further evoke looking through a kaleidoscope. Light is played upon through reflection, using them in geometric shapes in 3D jacquard macro-print suede sandals, for example. The season's pyramid shaped stilettos also reflect this stark use of geometry and shapes.
A standout from the collection is a sandal with fougere climbing vines made from rhinestone pave that go around the ankle, suspended without any support.