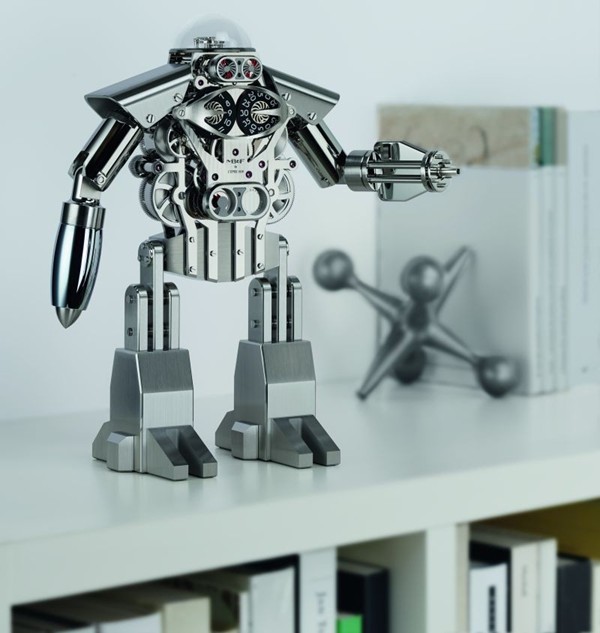 Founded in 2005, MB&F celebrates its first decade in 2015; to commemorate this milestone, the Geneva-based Horological lab will present a number of Anniversary Pieces during the year, under the theme: "A creative adult is a child who survived". The first piece is Melchior, created with L'Epée 1839. The impressive kinetic robot may remind you of your childhood, but it also happens to be an impeccably finished, 480-component mechanical table clock.
Indeed, with his smart steel and brass armour, enigmatic glint in his eyes, animated brain and muscular, articulated arms – the right one packing a rocket launcher, the left a Gatling gun – Melchior is the robot buddy you would want by your side while trying to thwart Darth Vader. But look again and you will see that Melchior is a majestic high-end table clock featuring jumping hours, sweeping minutes, double retrograde seconds and a 40-day power reserve; a tribute to refined, classic clocks and the art of watch making.
"A long time ago in a galaxy far, far away, man's best friend was his robot…As a 10-year-old fan of Star Wars, I knew Luke Skywalker could never have prevailed had it not been for droids like R2-D2 – a loyal, resourceful and brave robot who was always saving his friends. As an only child, I imagined having my own robot companion…Melchior makes that childhood fantasy a reality." says Maximilian Büsser.
Christening this roboclock 'Melchior' – after a traditional forename in his family – Büsser developed the concept with designer Xin Wang, selecting a high-end L'Epée clock movement and reimagining it as the mechanical head and torso of a robot. Jumping hours and sweeping minutes on Melchior's chest are displayed via discs bearing MB&F's signature numerals – with pointers incorporated into the breastplate – while a dial on Melchior's abdomen is the power reserve indicator. The retrograde action of Melchior's expressive eyes marks off intervals of 20 seconds. A combination of fixed vents and revolving discs, both bearing radial propeller motifs, gives the impression that Melchior is closing and opening his eyes – the resulting blinking effect endows the robot with a hint of endearing human-like personality. Further animation is provided by the regulator, its gentle beating and intricate composition made visible thanks to its polished glass dome cover.
Melchior is limited to 99 pieces and is available in a monochromatic 'light' edition or a two-tone 'dark and light' edition featuring black PVD-treated components.