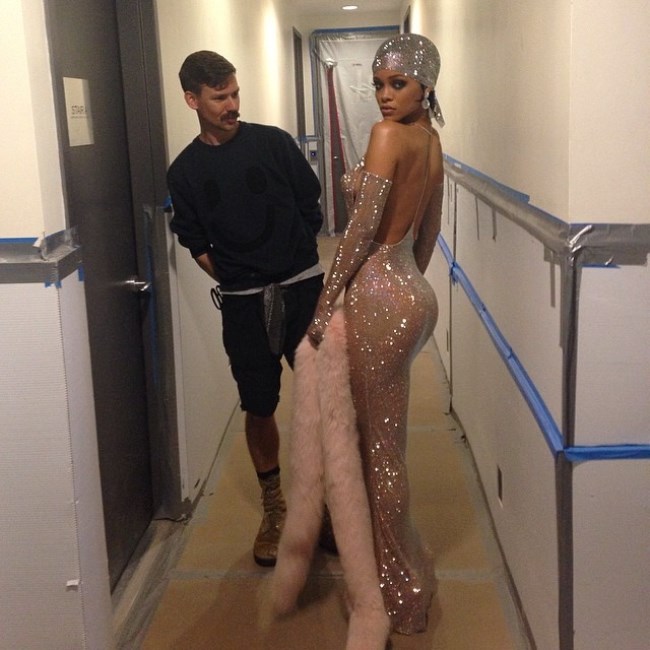 (Photo: Rihanna & designer Adam Selman. Rihanna wears the sheer dress decorated with Swarovski crystals)
It seems that just about everybody has seen Rihanna's sheer dress she wore at the 2014 CFDA Fashion Awards yesterday in New York as she accepted her Fashion Icon Award. Above, you see probably one of the few safe for work images of the dress where she is shown posing alongside the garment's designer, Adam Selman. And as to be expected, the look caused controversy.
On one side, people felt the dress was crossing the line in terms of taste. Male model Cory Bond wrote on his Instagram alongside a photo of the dress, this caption: "This looks so trashy to me. Why MUST the gown be see through? I don't want to see your nips. You're winning an award. Have some class. Guys don't go up and accept awards without shirts on."
While others were all for the risqué look. A Facebook user on the CFDA's official page by the name Carrie, wrote, "I'm very entertained by the negative comments. It's funny how opinionated people are & how much time they waste on negativity. You must be very miserable people. What I like about Rihanna is that she embraces herself as a confident woman & doesn't let others shame her. She does what makes her happy regardless of others approval. This is something very difficult in this age of extreme criticism on women by women, it's pretty pathetic & a damn shame. Seriously, don't be mad bc you don't have the confidence nor the beauty. It's ok to not share her sense of fashion but to be demeaning & nasty says a lot about a person & their respect for others."
So, do you think that her dress was in poor taste or another fashionable win?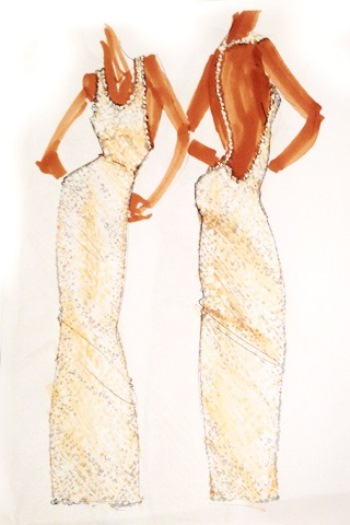 (Photo: Sketch of Rihanna's CFDA Dress. Photo from Style.com)