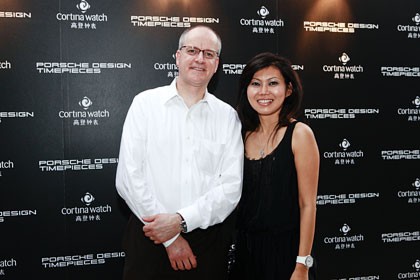 Porsche Design Timepieces and Cortina Watch – with a little help from distributor Pacific Time – threw a little soirée at the Tanjong Beach Club in Singapore in honor of the brand's 2010 collection of watches.
Porsche Design Timepieces CEO Patrick Schwarz (above) delivered the very first Porsche Design P'6780 Diver in Asia to Cortina Watch Regional General Manager Jeremy Lim. The watch is now exclusively available at all Cortina Watch boutiques in Singapore, Malaysia, Thailand and Indonesia.
A second watch, the Porsche Design P'6530 Heritage Titanium Chronograph, is now available for the first time in the world at the same Cortina boutiques.
Water resistant to 1,000 meters, the P'6780 Diver is a 46mm behemoth of the deep blue that is a descendant of a legendary diver's watch, the Ocean 2000, the only other such watch made by Porsche Design.
The P'6780 Diver is indeed a worthy successor, featuring an interesting stainless steel case that pivots out of a titanium housing to allow the setting of time. When set back into its housing, it cannot be inadvertently damaged and does not require a screwed down crown.
The second watch of the day, the P'6530 Heritage Titanium Chronograph on the other hand is a harbinger of things to come for Porsche Design. The watch is the first of a new collection called Heritage, which celebrates the brand's icons. In this case, the Titanium Chronograph was the first luxury watch to use titanium for the case.