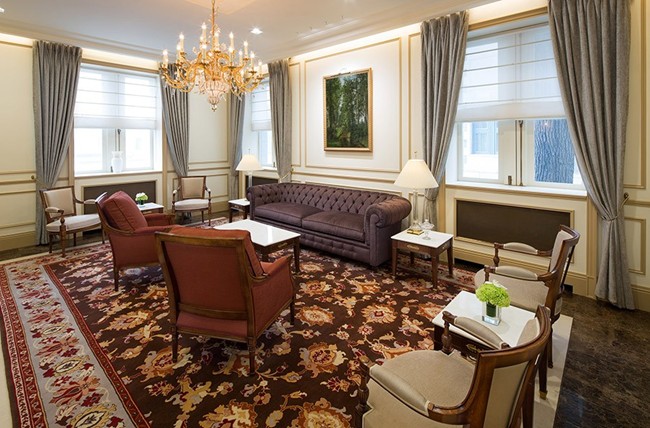 Mainland Chinese watch aficionados rejoice! Late last month, Patek Philippe inaugurated its Maison Patek Philippe Beijing following six months of expansion and upgrade for the original boutique there. Located at Ch'ien Men 23, this is the second maison in China following Shanghai's, which was then the world's first.
Literally "house" or "home" in French, a maison is meant to be more than a boutique or service centre for Patek Philippe's customers, and has features comparable to the Patek Philippe Salon in Geneva. Customers can thus enjoy a watch buying experience more akin to that in Europe, including access to a showcase of the brand's complete current collection. Being far more than a mere sales channel, the maison will also help visitors to learn more about Patek Philippe's history and values.
Highlights of the Maison Patek Philippe Beijing's inauguration included a traditional alphorn performance at the opening ceremony, which took place in behind the building in a space that had been transformed into a Swiss garden. Guests at the event included Mr and Mrs Philippe Stern and President of Patek Philippe Mr Thierry Stern. To commemorate the new maison's opening, Patek Philippe has created a limited edition of Ref. 5153, with 25 pieces each in white and yellow gold. The watch comes in a traditional Calatrava officer's-style case housing Calibre 324 S C, with the dust cover engraved with the maison's outline and commemorative text.
Surprisingly, this is only Patek Philippe's ninth year in the Chinese market, which began with the opening of its first boutique in Shanghai in 2005. The subsequent upgrade of said boutique to maison and the similar development of Maison Patek Philippe Beijing bears testament to the enormous potential of the mainland China market, and the brand's commitment to it. This has been helped to some extent, of course, by mainland Chinese customers' penchant for dressier and iconic timepieces. Given enough time, it wouldn't be surprising to see the Chinese market mature enough for a Patek Philippe Salon to open in China a la London or Paris.