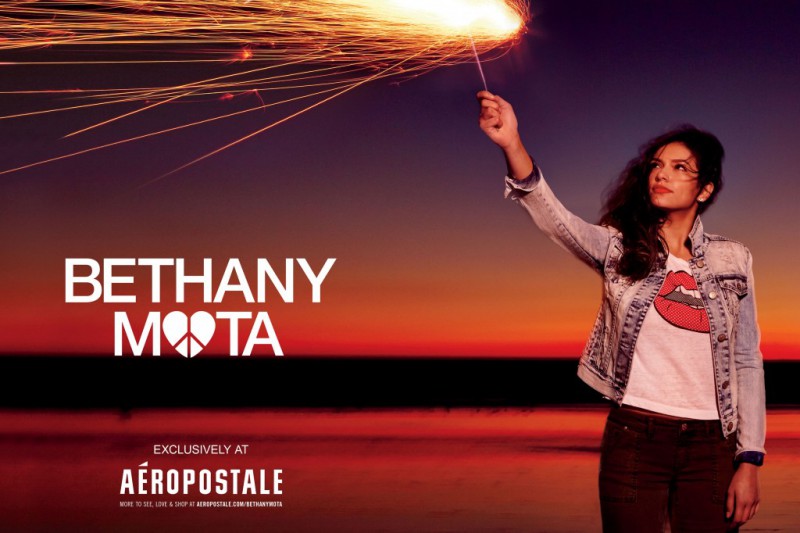 Introducing Bethany Mota, hailing from Northern California, the 19 year old beauty got her start as "MacBarbie07" on YouTube back in 2009. With a highly relatable appeal, this girl-next-door wanted an outlet to express her creativity through style and fashion with make-up tutorials and shopping hauls; to help cope with a bout of cyber-bullying back when she was younger.
That YouTube channel, which has since evolved into a Lifestyle channel l featuring more of her thoughts and inspirations, has led to greater things including her own lucrative clothing line with American-based fashion chain Aéropostale, featuring casual chic designs that girls and women can have fun with and relate to.
Her current summer line features 90s-inspired trends that give off a Normcore vibe, with her favourite "Mota-vational" sayings splashed across stylish, T-shirts. Edgy, bohemian accessories accompany the line. Check out Bethany Mota x Aéropostale Summer Collection ad campaign below.
Travelling the globe for various appearances and mentoring sessions has greatly inspired her sense of fashion, and has opened her eyes to styles outside just the All-American mind set, so perhaps fans of her tutorials and fashion line can look forward to greater global inspiration in her upcoming work.
Bethany has been featured in numerous teen-centric fashion magazines including Girls Life, Justine and Seventeen. She has also made a guest appearance on Nickelodeon's AwesomenessTV and is a staple at many red carpet events across the globe.
International delivery is available for all online purchases.
Follow Bethany Mota on Twitter @BethanyMota
Subscribe to Bethany Mota on Youtube – Macbarbie07