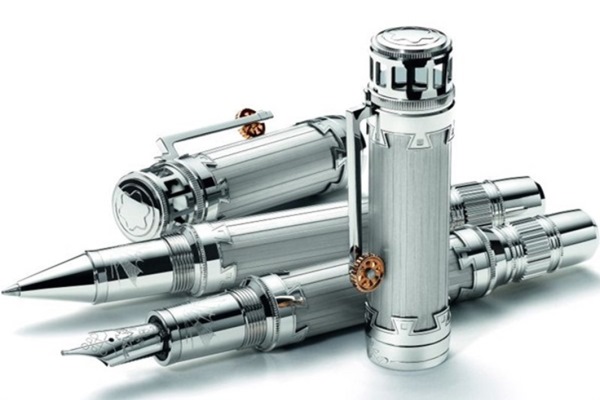 Montblanc's latest Great Character edition pays homage to Leonardo da Vinci. It celebrates the genius of the prolific artist of the Italian Renaissance. A man of many talents, he was not just an incredible painter, sculptor and architect, he was also a extraordinary man of science. The Montblanc Great Characters Limited Edition Leonardo draws inspiration from da Vinci's inventions and ideas that still fascinate us five centuries after his death.
As a nod to modern aircrafts, the cap and barrel of the writing instrument are crafted from anodized aluminium, while the polished platinum plated fittings are reproductions of da Vinci's studies for wedge connections used to assemble two different materials in his constructions. The shape on the cone of pen refers to the double movement transmission conceptualized by da Vinci over 500 years ago, now widely used in automotive engineering. The red gold plated gear at the end of the clip is a throwback to the many cogwheels that da Vinci used in his designs.
The nib is handcrafted in solid 750 gold and rhodium plated. It is engraved with one of da Vinci's famous drawings of a bat whose wings he studied to develop his flying machine. The forefront of the pen is etched with his own sketch of a mechanical wing.