Facebook, Twitter and Instagram are every modern-day model's dream. Both are the perfect platform to highlight their natural beauty via 'selfies', god-given perfectly-pert posteriors via 'Belfies' and just generally muse about their wonderful lives/ faces/ hair/ homes/ bodies/ wardrobes/ celebrity friends.
In fact, the amount of Twitter followers you have is even becoming a form of currency in the modelling world – as Jourdan Dunn revealed a couple of months ago, the more fans, the more likely the model is to secure a top job thanks to the candid exposure they'll give the brand via Twitter (Hello, Cara Delevingne).
Eva Herzigova for The Edit Photo: Horst Diekgerdes
It's refreshing then, when one of the world's biggest supermodels eschews the tell-all trend.
While her contemporaries Naomi Campbell, Cindy Crawford, Christy Turlington et al are seasoned social media users, Eva Herzigová has avoided the 21st century phenomenon like the plague.
READ: Which Models Take The Best Selfies?
In an interview with The Edit, the 40-year-old beauty tells of how one friend can't believe she's still working because of it.
"He said, 'Your age starts with a four, you are a hermit, you never go out and you have integrity. Usually, people like you do not recognize success. It doesn't make sense!'" Herzigova explained.
"I replied, 'I've always worked hard and picked the right work.' But he pointed out that, in this society, where people sell their souls on Facebook and Twitter, I don't go out there selling myself – I am very private. It makes no sense to him I still get work!"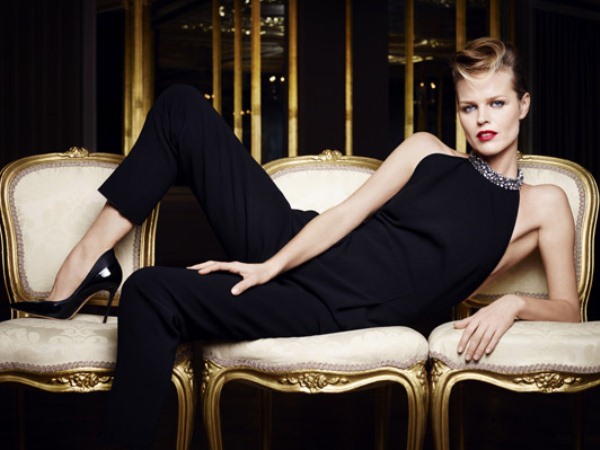 Eva Herzigova for The Edit. Photo: Horst Diekgerdes
In fact, as far as we can think of, she's only joined in the non-social media supermodel camp by Kate Moss. Though even she has a secret Instagram account . We'll lump her in with our sartorial spirit animal, Celine's Phoebe Philo, who once said: "The chicest thing is when you don't exist on Google."
Listen up Rosie, Candice and Cara – overexposure is, well, over.
(Source: The Daily Telegraph)