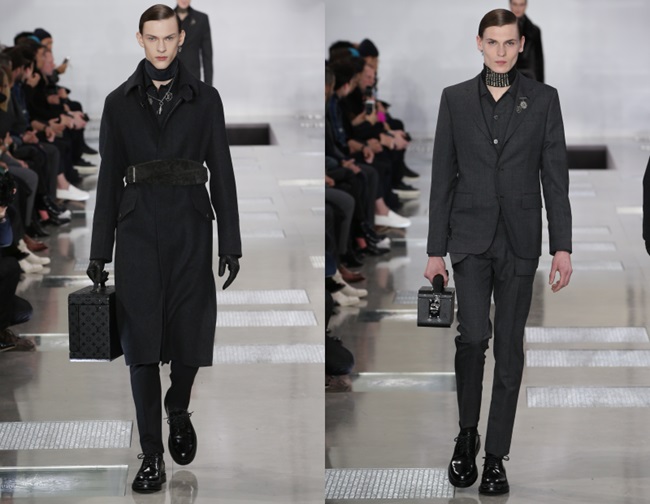 This season, Louis Vuitton blends grunge, dirt and steely debonair in a nostalgic homage to its classic Monogram, which makes the collection's key motif. The master inspiration of this Fall's menswear collection – a Jacques-Henri Lartigue image where a stack of Louis Vuitton trunks lie against the backdrop of the Eiffel Tower.
"This season I was inspired by Paris – old and new," says Kim Jones, Men's Artistic Director of Louis Vuitton. Between 162 years of Louis Vuitton, in conversation between past and present, a wardrobe of the modern man is born. They call it "Future Heritage".
The conversation starts with the Art Deco period, and era which propelled Paris as the quintessential art, culture and fashion capital of the world, and meets the modern demand for utility and function in a gorgeous fusion of style and substance. Keeping warm also means free movement, and free movement means style.
The iconic canvas appears, reinvented, as the Monogram Eclipse – a timeless new variation whose subtle grey-black shadows remind of the house's famous Malle Courrier from centuries past.
In the Monogram Illusion, shiny, matt pieces come abound in a series of smooth leather bags and trunks, where silkscreened transparent Monogram dance in the lights.
The iconic motif also appears in a series of mirror-lined gentleman's trunks: tool-kit, vanity, attaché and mobile bar. The mobile bar, created in the specialized made-to-order Vuitton workshop in Asnières, pays homage to Louis Vuitton's 1920s style.