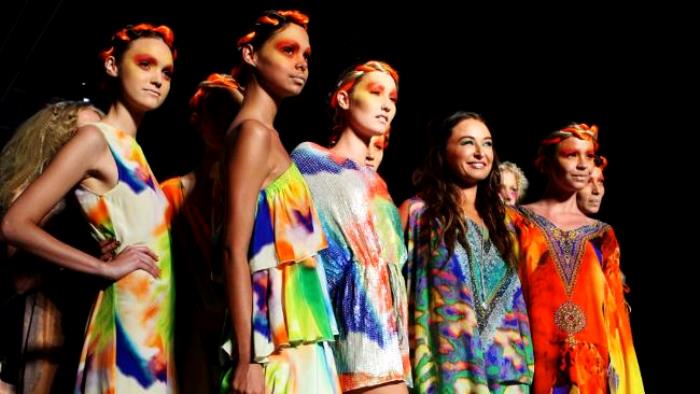 WTF is always on the prowl for the latest Fashion Trends across the globe, here we have put together a list of fashion-centric bloggers from Australia for you to check out.
Check out the list below, sorted according to alphabetical order.
If you know any more Fashion bloggers to be added to the list, please feel free to comment in the box below, our writers will update accordingly. 
(Photo above: Camilla Franks, second from right, on the catwalk at the end of her show at Australian Fashion Week. | Picture: Justin Lloyd  via The Australian)
This Australian-English has a great sense of style with a highly addictive blog to compliment; from recipes, to her home, to Mulberry and of course fashion. Her photos will inspire you and her down to earth sound to her posts will make you smile and keep you reading for hours.
Sonya, from Australian Fatshion, shops and hunts for the trends and bargains to suit her plus size body and most importantly, shares her finds with other readers. She documents what she wears and her posts are helpful and informative. She's inspirational and embraces her body shape, a loud message every woman should hear.
Boy Moments is filled to the brim with fab photos. The busy photos documents events and style that are bound to get some inspiration going. Boy Moments also features exclusive interviews and fashion news!
Capture the Castle really caught my attention. The photos of everyday life combined with fashion with the tiny typeface luring you in really got me caught up in this blog! Her personality can be heard through her words and her passion can be seen through the photos she chooses to blog.
Dropstitch is simple yet stunning with photos that really inspire and motivate. Dropstitch isn't loud but you can hear the personality and the passion behind the photography. Get a behind-the-scenes peek and be inspired by the outfits and styling within the shoots.
Fashion Hayley's blog is filled with photos to document what she wears on a daily basis. Whether you take tips from the blog or you're simply looking for inspiration, you're definitely going to find something here. Fashion Hayley has a bold style that's positively unique and different. Having lived in Tokyo for a year, you can also check out her Tokyo diary.
Be inspired by Lenya Jones' different styles and trendy looks which are classy and unique. Her blog also features personal posts and photos of events and her work.
Lenya's down to earth words are encouraging and motivating, perfect for anyone looking for inspiration.
Vanessa's lookbook features delightful fun looks that are individual and unique. Her informative trends page, complete with more than just a few options, will keep you on trend with choices to suit your individuality and personality.
Friend in Fashion documents the latest looks and trends through beautiful photos. Her bubbly personality can be heard through her Twitter and shines through her outfits. You'll be able to find looks perfect for any occasion, from flirty florals to cool and collected!
Girl with a Satchel is more than your normal fashion blog, simply because it's crammed with so much more! There are reviews of your glossy magazines, interesting facts and figures, important topics such as body image, words on Christianity and on top of all of this fashion and the hottest trends. It's every girl's must read.
I Want What She's Wearing is a fun, lighthearted and inspirational read. The blog is beautifully presented, with crisp images set to inspire and give you ideas for your next outfit. Her photos are simple yet capture every detail and draw you into the clothes and items, it's addictive.
Jack and Jil Blog focuses on photography with a great eye for detail. They're beautifully unconventional and captures style as well as action. You'll be inspired just by scrolling through and by the time you reach the second page, you will be hooked!
Lady Melbourne keeps us up to date with her purchases, her loves, Happy Fridays, her booklist complete with fashion and beauty ideas and tips and videos. Her light hearted and down to earth approach to her posts puts a smile on your face and makes you feel good about yourself. Her style is bold yet beautiful and classy.
Leeloo is an adorable blog with the Leeloo store alongside it. Leeloo is graphically beautiful, informative and inspiring. Along with the store, they also offer a styling service!
Catch up with Leeloo and meet them at markets. You'll be able to find all the details on their fashion blog, including the details on their upcoming event – Finders Keepers.
Little Black Book is packed with photos set to inspire! Blogger Emily has a cute quirky style that sets her aside from the rest. Be inspired by her 'Outfits' page that documents what she wears daily. Her blog is also complete with reviews, what she purchased and her blogs of sneaky peaks at upcoming collections!
Obsessed writer and photographer, Chanelle Leslie, and fashion addict Amanda Lim, both blog together on Not So Naked. Their unconventional style is beautifully photographed that grab interest and attention. They're personality in the photos and down to earth tone to their personal posts really shines through.
Sea of Ghosts is a chic and edgy blog. Miss Ghost shares with us her inspirations and her designs, thus inspiring us readers and displaying an exciting form of style. Miss Ghost's style has edge that targets a specific audience but will influence many. The dark yet very sophisticated look is beautiful and can be modified to suit different personalities and tastes.
The Sydney Girl has a daily what-I-wore along with useful product reviews and personal posts at the core of her fashion blog. If you've got a night out or a special occasion coming up and you're stuck with what to wear, The Sydney Girl has outfits she's put together that are bound to help and give you ideas. Her bright and colourful blog will teach you her tricks and will definitely inspire you.
We all love bargains and a chance to save money, and we all know how overwhelming it can be as soon as we step into any Westfields in Australia. Where do we start and how do we look for the best buys without having to walk round the mall three times? Your problems are solved with The Westfield Insider.
21 year old Alyce has been the Westfield Insider since November 2010 and gives you shopping tips, up to date trends and best of all – she does the bargain hunting for you so you can grab them up quick before they go!
Katie wears the clothes and Joe writes the words. Katie is unique, bold and quirky and with a different look everyday, you won't be stuck for ideas! She's inspirational and unconventional. What Katie Wore is definitely a great stop to remind you to break the rules and don't be afraid to throw things together because by the time you put them on, you'll be rocking that outfit.