The Huffington Post reported that the Fame Monster will make her movie debut in splatter-film specialist Robert Rodriguez's Machete Kills.  Gaga will play a character called La Chameleon in an oddball cast that includes Charlie Sheen, Sofia Vergara, Mel Gibson and Michelle Rodriguez.
A poster depicting Gaga's character, which will soon be adorning the bedrooms of alienated teenagers everywhere, depicts the bare-shouldered pop star holding a smoking gun and wearing what appears to be the pelt of a white wolf around her.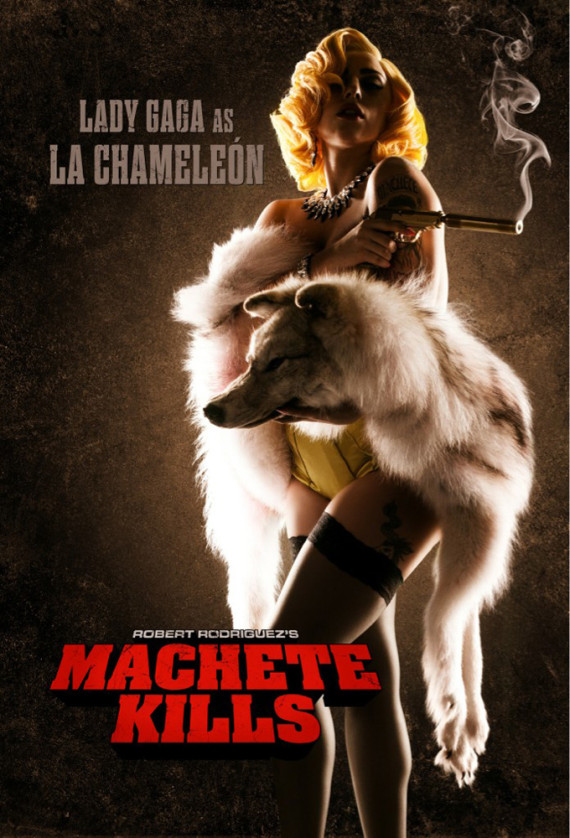 Alas, the image, and Gaga's blond gun-moll hairdo, is more than a tad reminiscent of a couple of 1990s movie roles played by another pop star who Gaga is often accused of slavishly copying: Madonna. Lady Gaga is simply inviting more Madonna comparisons.
The poster image calls to mind Madge's performance as Breathless Mahoney in the 1990 film adaptation of Dick Tracy, with maybe a little bit of Rebecca Carlson from Madonna's 1993 sex bomb,Body of Evidence. (If you haven't seen it, don't.)
Rodriguez apparently liked Gaga's performance before the camera. On Thursday, he tweeted "I just finished working with @LadyGaga on @MacheteKills , she kicked SO MUCH ASS! Holy Smokes. Blown away!"