Cartier Manufacture at La Chaux-de-Fonds
From December 14 2011 to February 12 2012, the Singapore ArtScience Museum at Marina Bay Sands will present "Cartier Time Art", an exceptional exhibition that will walk visitors through the fine art of Cartier watchmaking. The iconic lotus-shaped monument is the first venue in Asia to host this exhibition, billed as the largest collection of Cartier timepieces ever displayed in public.
The exhibition travels also for the very first time outside the birthplace of watchmaking, Switzerland, and presents a unique opportunity for the public to discover the secrets and stories behind timepieces created by Cartier. Members of the public, not to mention watch collectors and enthusiasts, will be given an introductory lesson on the rich language of horological shapes, designs, and complications.
It is in this context that the exhibition at the ArtScience Museum will also present 12 Cartier movements and 17 fine watchmaking timepieces, all linked to Cartier's technical know-how. The highlight of this section is the forward-thinking Cartier ID One concept watch, an exquisite piece created by watchmaking legend and head of high watchmaking at manufacture Cartier, Carole Forestier.
The 158 historical timepieces that will be presented at the ArtScience Museum have been selected from the treasures of the Cartier Collection, a unique array of vintage Cartier objects that date from its origins through to the present day. These artifacts are often exhibited in the world's most important museums.
Emblematic creations, such as the Santos wristwatch (designed in 1904 as a custom made watch and released in 1911), the large Portique mystery clock (1923) with the mysterious Billiken figure on it, a very rare jumping-hour pocket watch with a transparent case and the exceptional 1928 Tortue watch with minute-repeater, will be joined by the largest collection of mystery clocks ever displayed in public in one place, all waiting to be discovered.
Commenting on the imminent launch of the exhibition, Christopher Kilaniotis, Managing Director of Cartier Singapore, said: "This is an important exhibition, never seen before in Asia or, as a matter of fact, outside Switzerland."
"What is special in regard to "Cartier Time Art" exhibition is that for the very first time we have the largest collection of historical and contemporary Cartier marvels in one wonderful location. The creativity and stories behind the timepieces on display is fascinating, with the exhibition including a number of individual creations, but also a unique concept watch, the Cartier ID One, which is a foray into the future direction of watchmaking."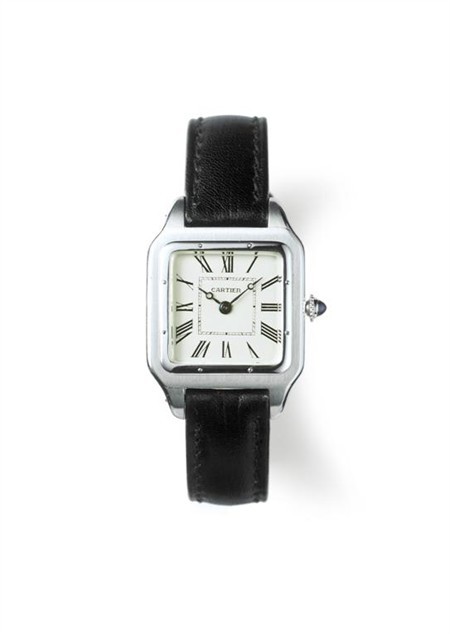 Santos wristwatch, Cartier Paris, 1916 Platinum, gold, sapphire, leather strap
The Santos is Cartier's first true wristwatch – a timepiece made at the request of Alberto Santos Dumont, an aviation pioneer in both lighter-than-air aircraft and early airplanes, is said to have asked Louis Cartier to make a watch that could be worn on his wrist so that he would not have to remove his hands from the controls of his aircraft to check time.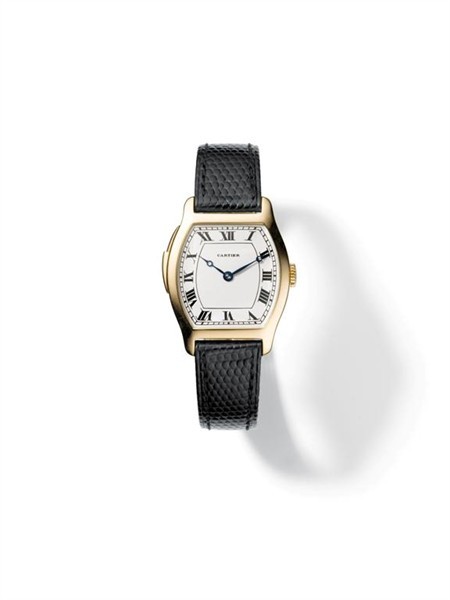 Tortue wristwatch with minute-repeater, Cartier Paris, 1928. Gold, leather strap
This extremely rare watch houses one of the most sophisticated complications: the minute-repeater, which chimes the hours, quarter-hours and minutes when the repeating slide is activated.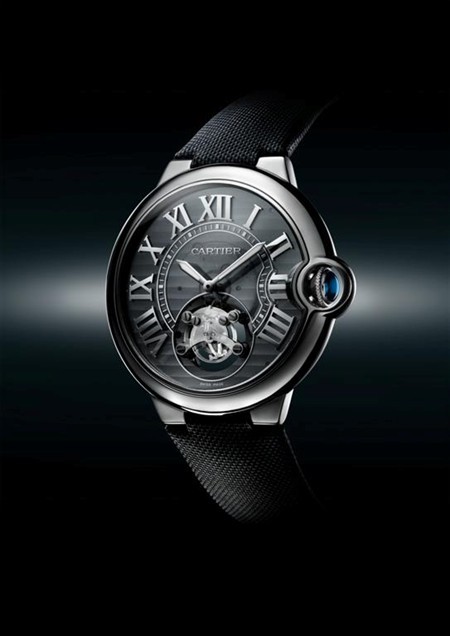 Cartier ID One concept watch
Pushing the level of ingenuity and research even further, Cartier will also be presenting the Cartier ID One watch in this exhibition, a concept timepiece that requires no adjusting during servicing. Manufactured and assembled according to an innovative design that combines cutting-edge materials and technology, this watch will never have to be adjusted throughout its entire lifecycle.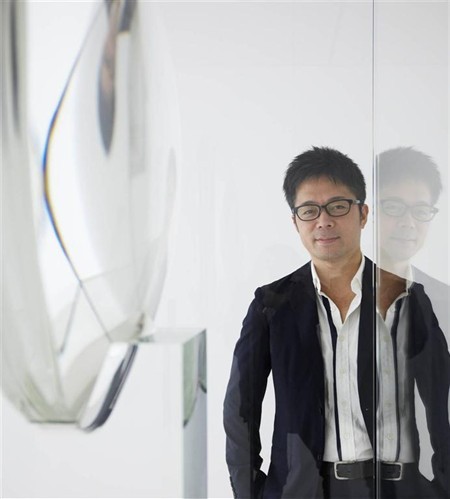 Tokujin Yoshioka, Art Director of Cartier Time Art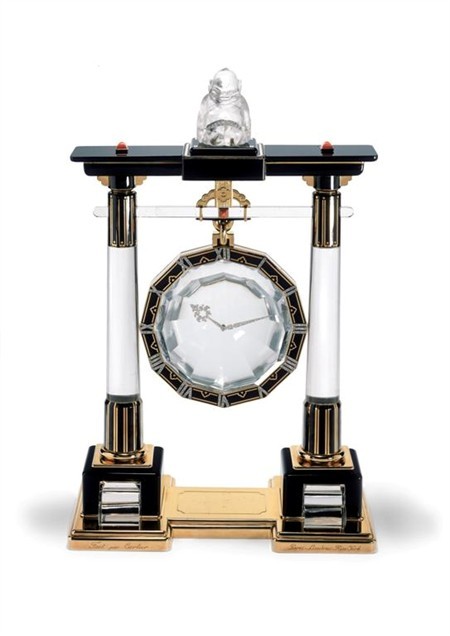 Large Portique mystery clock Cartier Paris, 1923. Gold, platinum, rock crystal, coral, onyx, enamel, rose-cut diamonds.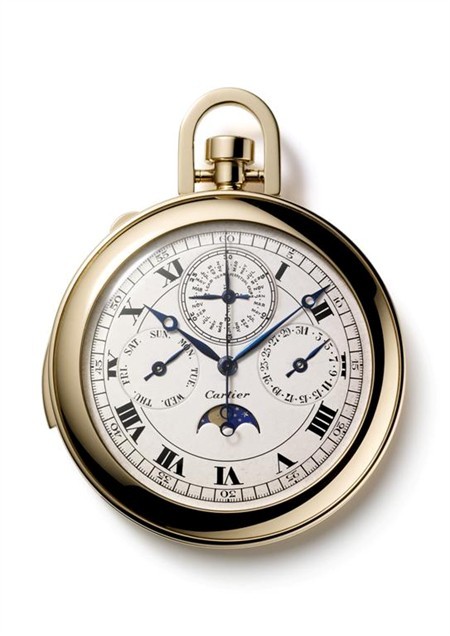 Pocket watch with minute-repeater. Cartier Paris, 1927 Gold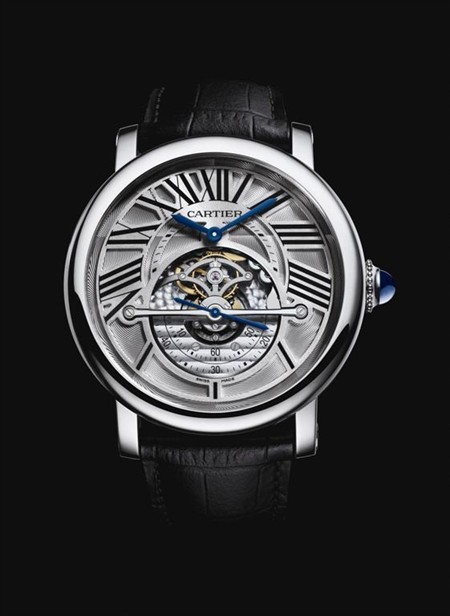 Rotonde de Cartier Astroregulator, Calibre 9800 MC