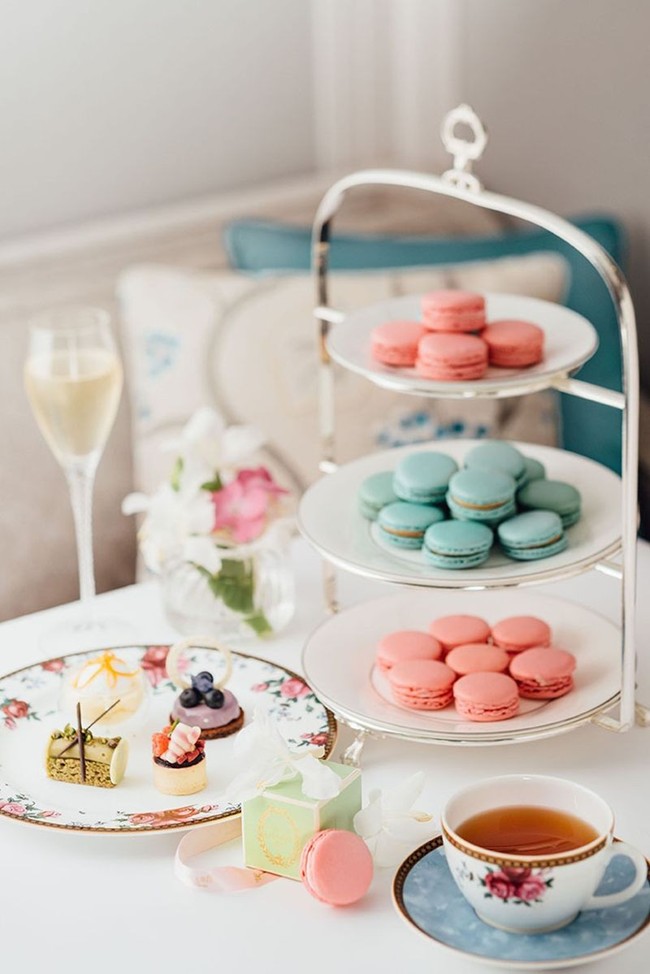 In collaboration, The House of Ladurée and The Langham, Hong Kong, present The Ladurée Afternoon Tea by Langham to unveil an exclusive Langham flavored macaron at Palm Court. Renowned for pastry perfection since 1862, Ladurée brings to fruition the Langham's signature scent creating the Ginger Flower macaron (exclusively available from September 12 to December 31). It is filled with a custom-made rose ganache, complemented with notes of ginger, and sandwiched between two beautifully baked pink macaron shells.
The delicate confections were designed and delivered from Paris to guarantee that each characteristic consisted of a mouth-watering crunch with a sweet finish. The iconic Marie-Antoinette macaron also makes an appearance on the afternoon tea set. This Ladurée creation is a reflection of the infamous Marie-Antoinette tea, which is a marriage of black tea from China and India with flavours of rose petals, citrus fruits, and honey. Enhancing the experience further, The Langham, Hong Kong's Executive Chef Pedro Samper composes an original pastry piece called the Royal Blueberry Mousse with Ladurée Crystallised Violets. The light and airy mousse rests on a home-baked chocolate biscuit that provides a contrast in textures. Fresh blueberries, candied violet flower petals and white chocolate couveture are adorned on top.
Served on the tailor-made "Langham Rose" Wedgwood tea ware, other accompanying sweet pastries have been designed to complement Ladurée flavors and colors. Guests can expect a Grand Marnier Floating Island,Orange and Ginger Flavoured French Canelé and a Praline Yuzu Tart. On the savoury side, Chef Pedro's petite bites range from smoked duck breast with mango chilli jam, to parma ham and tuna roulade with basil pineapple salsa, and free range chicken and liver pate with fig compote. The Palm Court bakery also includes a warm selection of plain and golden raisin scones served with Devonshire clotted cream with strawberry and rose preserve.
To commemorate this cooperation, guests will receive a complimentary seasonal macaron gift box for every order of The Ladurée Afternoon Tea by Langham (while supplies last).