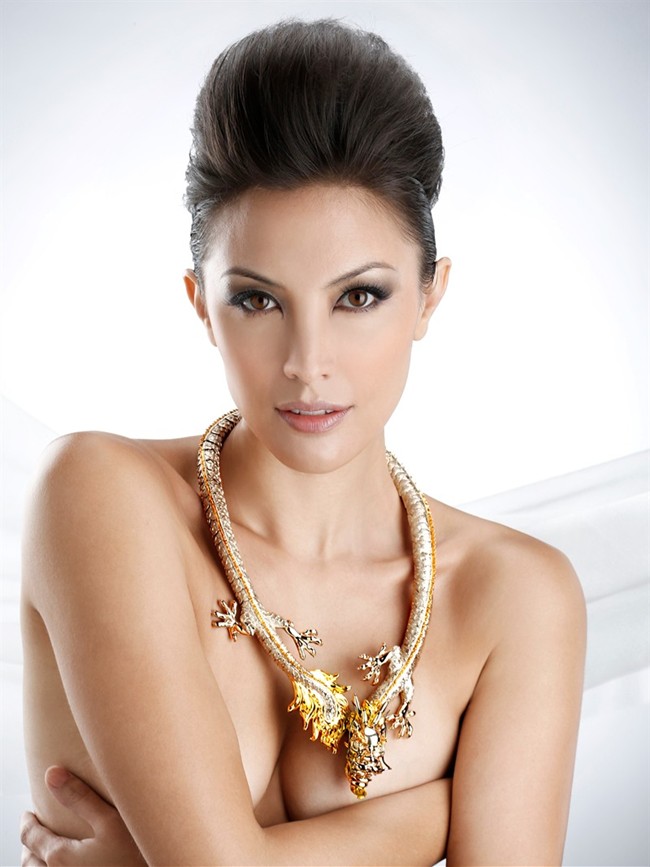 To celebrate its 40th anniversary, La Putri has designed the glistening Althea, a piece of art, as well as a golden necklace, fashioned after a majestic dragon.
"Inspired by the vision of a graceful dragon soaring through the clouds on a stormy day, Althea symbolizes courage, strength, resilience and fluidity. The necklace immortalizes the regal and dignified presence of the mythical creature, yet the rich details on the necklace and the masterful craftsmanship make the exquisite piece, at once, luxurious, delicate and extremely wearable. This is definitely a piece of fine jewelry for a woman who has presence and is not afraid to express her individuality," explained Goh Shuet Li, director of La Putri.
Goh Ying Li, La Putri's chief designer, spent six months studying photos of dragons in order to accurately depict them on the Althea, which took La Putri two years to make. The details of the dragon are crafted meticulously, the necklace made out of 18K white and yellow gold with two sparkling yellow diamonds as eyes. The mouth of the dragon contains a hidden latch, where you can attach a pendant.
To allude to the fact that the dragon is a symbol of auspiciousness in Chinese culture, a hexagonal pattern, better known in Cantonese as "lok hup" has been featured on the bottom of the dragons head and tail to signify smooth sailing.
Althea debuted at the Singapore International Jewelry Expo at the Marina Bay Sands from July 4-7.