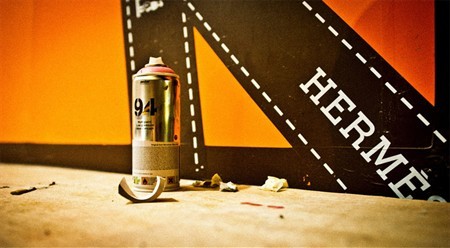 Hermès and graffiti: the most unlikely combination yet? Melding high-end luxury with cult street art, the hoarding shielding the Hermes boutique at the soon-to-be-unveiled Scotts Square has been splashed over in neon graffiti, in a virtuosic live demonstration by iconic French artist Kongo.
The larger-than-life mural, dubbed "Graffiti made by hand" in a nod to Hermes' artisanal reputation, features the Hermes logo scrawled in Kongo's signature audacious style. The work was also the opening act for the Voilah! French Festival Singapore 2011's "Off the Wall" urban art festival.
Kongo will return to Singapore for the opening of the Scotts Square store on December 9. Specially created window displays by the artist will be revealed on the day itself. The opening weekend will also see Kongo creating custom graffiti nametags on site.
In an all-out, cohesive presentation, guests at the opening weekend will also get to snap photos in a photo booth fashioned to look like the "Graff Hermès" carré designed by Kongo for Hermes' Fall-Winter 2011 collection.

Do pop by Scotts Square if you fancy a photo op with a bright, bold backdrop – now you know that graffiti is a legitimate art form in usually staid Singapore!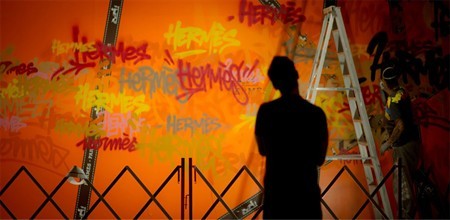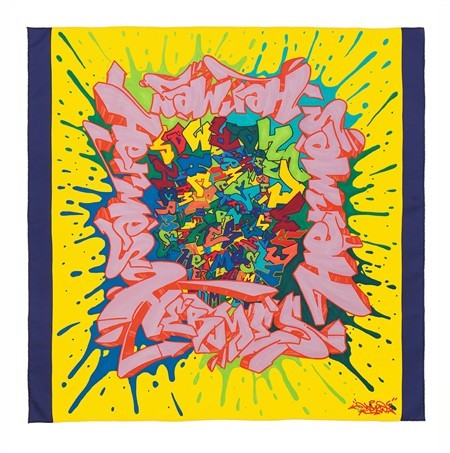 Graff Hermès" silk twill carré by Kongo