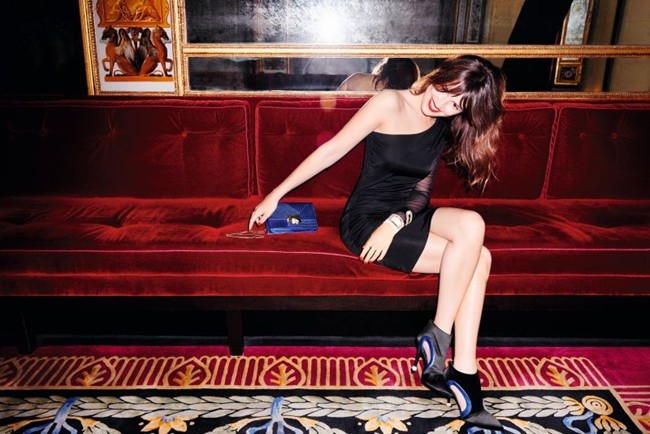 Roger Vivier has announced Jeanne Damas, a contemporary Belle de Jour, as the new face for its 2015-2016 Autumn-Winter collection. Photographed for this season's catalogue by the British Kate Bellm in and around Paris' mythical sights, Jeanne and her unique look saunter along the banks of the River Seine, flirt with the Eiffel Tower's shadow, linger on café terraces and embrace the muted darkness of nightclub hotspots, bringing with her the Roger Vivier icons: vertiginous heels embellished by the emblematical Sphere, a new finer Buckle dazzling on a new heel pump and on thigh-high leather stretch boot as well as the Miss Viv' bag dressing up in patent leather.
The friendship between Jeanne Damas and Maison Roger Vivier epitomises Paris. The nonchalance of one, the sophistication of the other, the chic attitude that embraces all-over sexiness…With her cheeky pout and slender shape, Jeanne captures the spirit of the times and magnetises Paris' reverberations, morphing them into moods. For its part, Maison Roger Vivier continues to introduce with different inspirations iconic accessories for the Parisian woman's wardrobe, whether she is uber feminine or demoiselle. Maison Roger Vivier and Jeanne Damas come together to perpetuate the myth and shake it up with a modern twist.
Jeanne embodies a certain style, a blend of different elements, with a natural instinct for everything that is fashion, that is Parisian with its parties that date back to 2009 when, at 15 years old, she started a blog about her world. A world that displays her photogenic radiance and offers a glimpse into the spirit of an entire generation. Today at 22 years old, she is approaching 100,000 followers on Instagram and will soon be taking her first steps in the world of cinema.