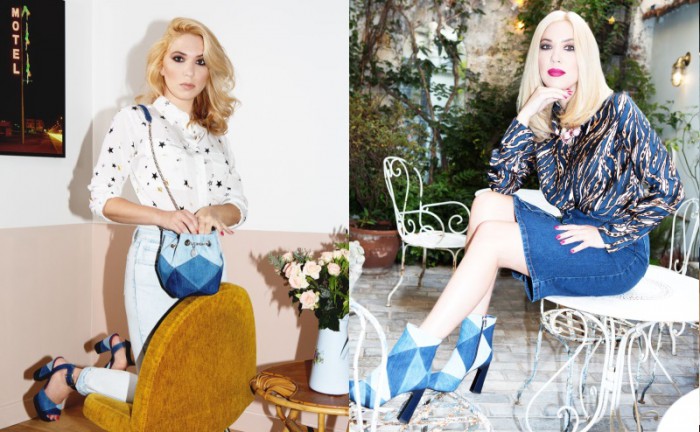 Platform sandals, ankle boots, a shoulder bag and a mini-evening bag – they're all you need in this gorgeous new capsule by Roger Vivier. The Prismick, one of the Maison's most amazing icons, have been entrusted to celebrity stylist Camille Seydoux, a friend of the house. Seydoux's dream, an all-denim capsule collection, is materialized in fantastic, four-piece perfect wardrobe.
Camille is no stranger to fashion and art, growing up in its sacred inner circle and opening her own art gallery at the age of 25. If you found her name familiar, you're probably right. She is the sister of Lea Seydoux, French actress and new face of Louis Vuitton.
"We decided that my collection would be dedicated to the Prismick line created in 2012, which is one of my favorites," she said. "I began by attentively exploring my own Prismick bag, which is in a melting fade of black and grey. I wanted to work on the idea of facets that make up grades of shading. I looked through the Maison's archives and then I thought of denim. It's a fabric that naturally burnishes. Denim is both classic and modern, and significant detail, is very resistant."
Indeed, the new capsule is a charming mosaic of blue denim. The Prismick Aumoniere Jeans is truly a versatile bag, for a casual yet stylish day out, or a dressed up statement bag for the evening occasion. Likewise, the Prismick Plateau Jeans Sandal makes an effortless, stylish transition from day to night – laidback but cool and chic all the same. If you wanted something a little more dressy, the Bootie Prismick Chunky Tromp trumps the rest as the queen bootie of casual chic – perfect with that LBD. And what capsule would be complete without that shoulder bag? The Prismick Shoulder Small Jeans is just the perfect size for a wild night out or even just a classy girly get-together. It's ultra-chic with a non-conventional attitude, with an impertinent, urban nonchalance.
"Denim can be worn with everything and can tone down an outfit. This capsule collection shakes up the look," Camille adds.