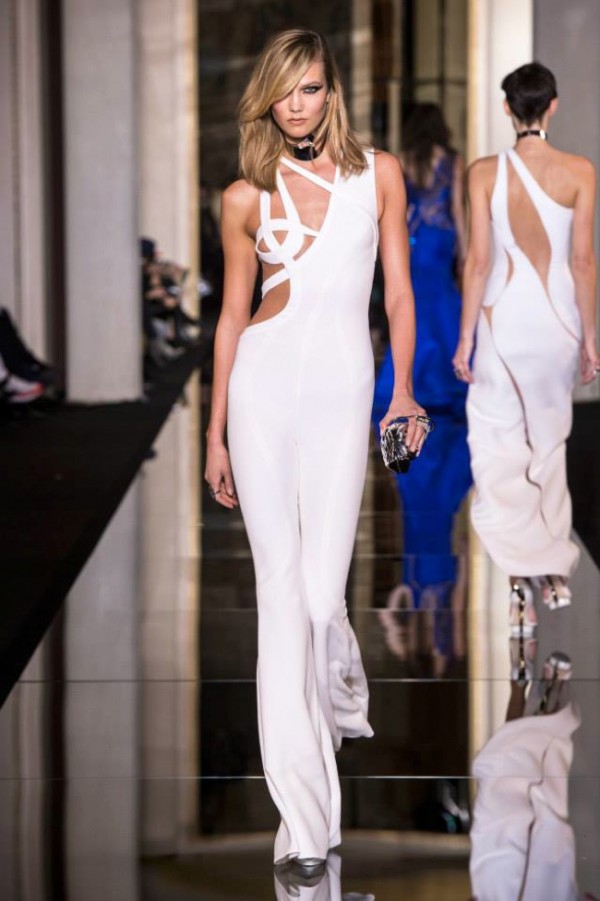 The idea this season, as Donatella Versace put it, was "to go back to the shape of a woman's body, which is curvy." There wasn't a straight line to be found, not on the terrific black tailleurs that opened the show, nor on a trio of the youthful emoji-embroidered minidresses worn with matching knee-high boots, and definitely not on the evening dresses with their swirling arabesque insets of nude mesh.
The color palette for Atelier Versace was a bracing mix of black, white, red, and royal blue. And to start, at least, the clothes were remarkably unadorned by couture standards.
Think Cher in her Oscar-winning days with an aerodynamic dash of Olympic ice-skater thrown in. The best numbers in this hit-and-miss collection were the most discreet: those black suits with the asymmetrical portrait necklines; one-shoulder jumpsuits with a slit up a flared leg; a gracefully clingy one-sleeve white gown.