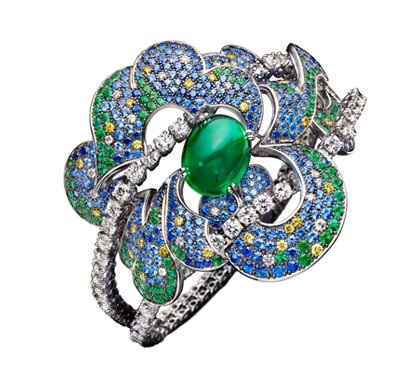 Prestigious makers of High Jewelry Boucheron continues its 150th anniversary celebrations with a new collection of lavish creations inspired by the Belle Epoque of Paris.
Seeking to embody the opulence and grandeur of Parisienne life, Boucheron draws upon seven iconic French women, each epitomizing a facet of the golden age, to act as muses in the creation of seven distinct sets of jewelry.
The seven muses – Louise, Irma, Jeanne, Satine, Loïe, Josephine and Lucie – were a bevy of courtesans, dancers, actresses and entrepreneurs. Each of the seven sets was carefully designed to reflect their individual personalities and style.
Louise, for instance, features a swirling skirt of diamonds and emeralds made to mimic the dance style of Moulin Rouge courtesan Louise Weber. Similarly, Jeanne Souchard, the founder of the tea salon, inspired the delectable platter of cakes and tarts confected from rubies, sapphires and corals which adorn the Jeanne necklace.