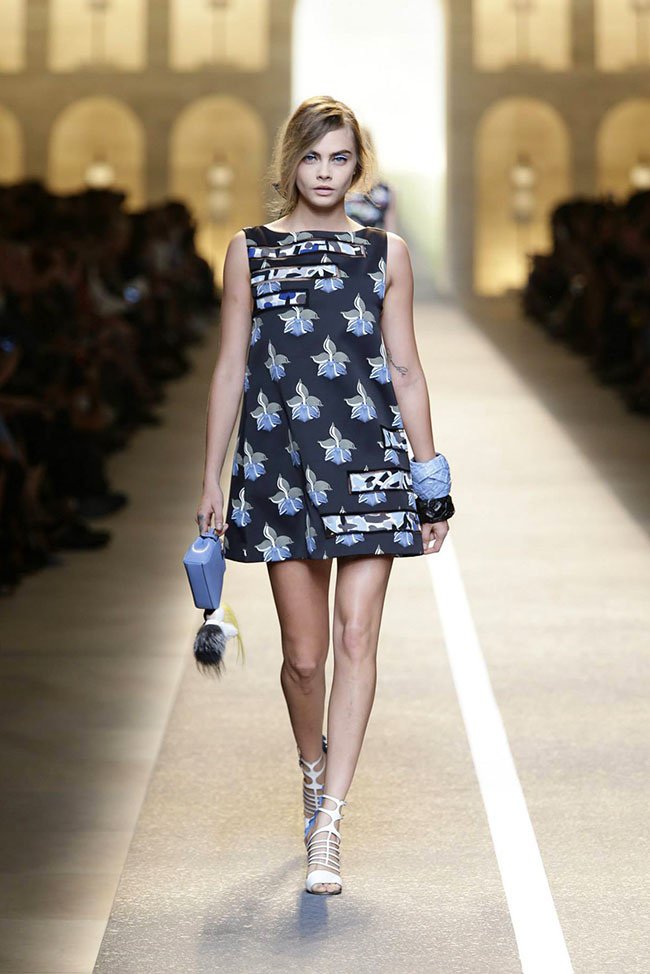 Fendi went up to boiling point at Milan Fashion week, with it's sleek orchestra of orchids from the 2015 spring/summer collection. Guests were greeted by a long runway with Coliseum-style arched windows, as interpreted in the Mussolini-era building that is Fendi's new headquarters in Rome.
The collection opened with pert A-line shifts sifts, segued through layered denim and gladiator skirts and then climaxed with dreamy, feathered mini dresses that were in fact made from hand-frayed organdy.
With arch humor, Lagerfeld and Fendi miniaturized iconic bags like the Peekaboo and clipped them on full-sized bags as the latest incarnation of their popular charms.
Most of the collection was hard and strong: short dresses where straight lines were drawn into graphic decoration or bodices that were sliced like strip curtains at a car wash. The shoes had similar straps but they were more delicate.
Denim was included in Lagerfeld's tough geometry, which was drawn with a compass for weird, jodhpur-shaped jeans. All in all, the looks were young and fresh, with striking accessories, and dazzling leather workmanship of degrade coats that morphed from suede into patent leather.