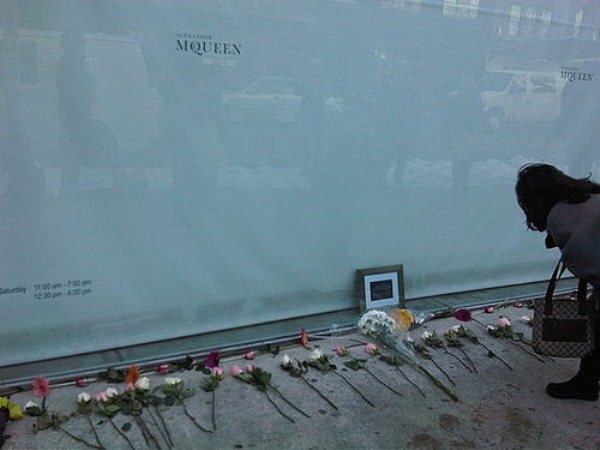 The news of Alexander McQueen's death hung like a dark cloud over the Fashion Week events today. The McQueen store down the street from Milk Studios in Manhattan, where a number of shows were held today, had its windows covered with white paper; a placard left on the ground outside.  Passersby left flowers and notes in a makeshift memorial out front.  Barneys, too, changed out its windows in tribute to McQueen — the store sold over 500 McQueen scarves today.
This morning at the BCBG show, just as the news broke, Anna Wintour left before the show's finale.  The Ports 1961 show held a moment of silence in honor of McQueen, Cushnie et Ochs included a tribute note in their show's program, and at the LnA after-party this evening, Patti Smith dedicated her performance to the designer.
(Grieving: Alexander McQueen with his mother Joyce in 2001. She died last week, days before his suicide in London this morning)
Kate Moss, who was scheduled to hold a launch party for her Longchamp collection in London, postponed the event to mourn her friend. More changes to the calendar may be made: The Cut is reporting that editors might leave New York Fashion Week early for London in light of McQueen's death.
On Twitter, there was an outpouring of grief from the industry, collected below. T's Stefano Tonchi told The Cut he partially blames the rapidly increasing speed of the fashion system for McQueen's suicide:
We all know that this is a very critical moment in fashion, and that basically he is the first victim of what is a conflict between creativity and business. Today to be a fashion designer, you have to be a superman or superwoman. You have to have nerves of steel. You have to be so strong. And if you are a little bit weak, if you have psychological problems or weakness, you end up like him." When McQueen began in fashion, designers worked on two or three collections a year, said Tonchi. "Now you have to be a business manager, a marketer. It's, what? Eight, ten, fifteen collections a year. Men's, women's, couture, diffusion. Then they want accessories. Then they want watches. Then they want jewelry. It's a machine, and I think that killed him.
A single rose left outside the Alexander McQueen store in Old Bond Street
Words from The Fashion World

»
Designers
Donatella Versace: "Alexander McQueen… The fashion world has not only lost an icon but we have also lost a very special friend"
Philip Treacy: "In a world where every man and his dog is a designer, Alexander McQueenwas the real deal. His talent was supersonic."
John Galliano: "McQueen was daring, original, exciting. He shook up the establishment with his creativity and understood what it takes to be a great British ambassador for fashion. I admired him very much. He was a fashion revolutionary that, like me, made the journey from [Central] Saint Martins to Paris where he put his own unique mark on the industry. He will not be forgotten."
Diane von Furstenberg: "Today designer Alexander McQueen passed away…His talent was immense and he will remain immortal in the history of Fashion."
Karl Lagerfeld: "It's a loss for the fashion industry. His story was one of success and talent, but that may not be enough to keep you alive."
Jean Paul Gaultier: "I am really saddened by Lee's passing on a human level, but also on the artistic one," said Jean Paul Gaultier. "A great talent has left us and we will miss him and everything that he has done for fashion."
Nicolas Ghesquiere: "I always had a big respect for his talent. My thoughts are with his family and his colleagues."
Stella McCartney: "Lee was a fashion genius. I don't say that lightly, and it is a total shock that I am referring to him in the past tense. He was a real friend. I will miss him as a mate, a peer, and as a true British talent, full of life and energy in everything he ever did."
Frida Giannini: "I have always admired Lee. He had a way of approaching fashion — both as a tailor and as an inventor — that was all his own. He was an enormous talent whose creative genius will forever remain in the history of fashion."
Giorgio Armani: "This news has come as a shock and greatly saddened me. The world has lost a very talented young man whom I have always respected for his outstanding genius."
Christopher Bailey: "I am truly shocked and saddened by this tragic news and my thoughts are with Lee's family. Lee was one of Britain's greatest designers and was an inspiration to so very many people. His unique vision, charm and warm character will be greatly missed by everybody who knew Lee and by everyone touched by his extraordinary talent. I think every designer's dream is to have that talent, that vision and that integrity."
Marc Jacobs: "He is such a great guy and such an amazing talent that it is so devastating to know he is gone. I will miss him, and I will certainly miss the beauty that he created, and his vision and his world."
Donna Karan: "It's shocking to think that something like this could happen to somebody of that ability, who has that creativity and expression and love inside of him. There are very few people you look at who are icons of creativity."
Prabal Gurung: "In a total state of shock about MCqueen's death. he was inspiring, daring, creative genius and his death is absolutely heart wrenching. RIP"
Sophie Theallet: "so sad……….so much respect for you…RIP Mr ALEXANDER….."
Jeremy Scott: "I AM FILLED WITH SO MUCH SADNESS TODAY I CAN NOT STOP CRYING MCQUEEN HAD BEEN SOMEONE I LOOKED UP TO IN SCHOOL AND GOT TO KNOW AS I STARTED"
Matthew Williamson: ""I am shocked and deeply saddened by McQueen's death. He was a genius and his talent was second to none. Like many others, I always cited him as a hugely inspirational leader of world fashion. He will be greatly missed."
Richard Chai: "It is such a tragedy. He was a genius. I really have no words."
Dolce & Gabbana: "He leaves the fashion world with an unfillable void."
Editors
Anna Wintour (via statement): "We are devastated to learn of the death of Alexander McQueen, one of the greatest talents of his generation. He brought a uniquely British sense of daring and aesthetic fearlessness to the global stage of fashion. In such a short career, Alexander McQueen's influence was astonishing — from street style, to music culture and the world's museums. His passing marks an insurmountable loss."
Alexandra Shulman: "McQueen influenced a whole generation of designers. His brilliant imagination knew no bounds as he conjured up collection after collection of extraordinary designs."
Olivier Zahm: "He was one of the most creative, radical and brilliant contemporary designers in fashion and he will be sorely missed."
Kate Betts: "Very sad news about Alexander McQueen. He was extraordinarily talented."
Joe Zee: "R.I.P. Alexander McQueen, a kind soul and brillant creative genius. Sad and shocking. You've touched us all."
Hamish Bowles: "Alexander McQueen's heartbreakingly premature death, at the height of his creativity and influence, has robbed the fashion world of a soaring and unique talent."
Andre Leon Talley: "It is a great loss. It's a tragedy for the fashion world. He was truly an innovator and a master. It's just an extraordinary loss for all of us and a shock to the fashion world.  He had incredible talents and gifts and at the same time, he was a great poet. There are very few poets left."
Hilary Alexander: "Devastating news about lee.have just come from his shop on w. 14th NY. Flowers candles messages and daphne guinness in black mourningm"
Models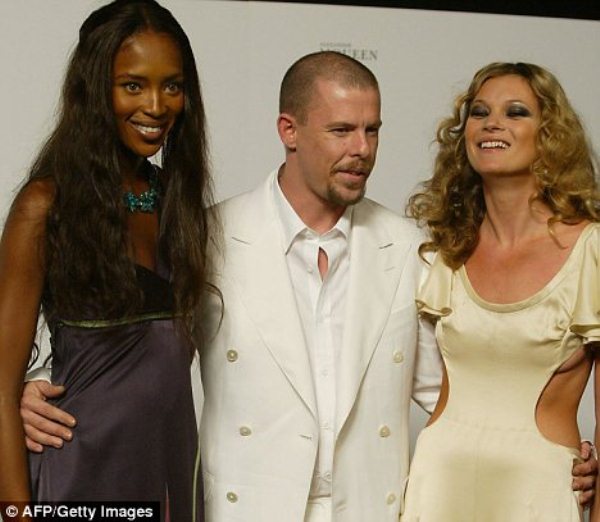 Top designer: McQueen with models Naomi Campbell and Kate Moss
Naomi Campbell: "I am truly devastated to lose my close friend. His talent had no boundaries, and he was an inspiration to everyone who worked with him and knew him."
Kate Moss (via statement): "Kate is shocked and devastated at the tragic loss of her dear friend Lee McQueen. Her thoughts are with his family at this sad time."
Karolina Kurkova: "RIP Alexander McQueen :("
Coco Rocha: "I am so shocked and sad to hear about Alexander McQueen."
Doutzen Kroes: "RIP Alexander McQueen I'm so sad, you will be missed!"
Imogen Morris-Clarke: "RIP to the most unbelievable person and designer. never predictable, never surpassable, now never forgotten. Alexander McQueen 1969-2010"
Frida Gustavsson: "eugh alexander mxqueen is dead, i feel like sh*t. its so sad."
Gemma Ward: "sleep peacefully lee, you will be missed x"
Meghan Collison: "RIP peace Alexander McQueen :("
Adriana Lima: "Rip Alexander Mcqueen.Descanse em paz"
Other Industry Figures:
Francois-Henri Pinault: "Alexander McQueen was one of the greatest fashion designers of his generation. His genius, sometimes provocative, admired and saluted by all, constantly opened new perspectives. Visionary and avant-garde, his creations took their inspiration from both tradition and timeless hyper-modernity."
Robert Duffy: "Very sad day for all.Yes we both knew him.Worked at LVMH together.Marc and I were crying earlierTold each other how much we love each other."
Julie Gilhart: "Sadness today with news of Alexander McQueen's passing. He was such a great talent and will continue to inspire. We miss you, Lee!"
Rachel Zoe: "I cant describe the tragic loss of such a brilliant man and designer Alexander McQueen..R.I.P xoRZ"
Terry Richardson: "Alexander McQueen…R.I.P."
Robert Polet, Gucci Group CEO: "I worked closely with Lee for the last five years. His creative force was inspiring to me and all those who were fortunate to know and work with him. He has left us too soon; he had so much more to give, but the legacy he leaves us is a rich one and one that we will cherish and honor."
Domenico De Sole: "I loved him. He used to come to the house for dinner — he knew Eleanor and my girls well. At the last McQueen show I went to, the fall 2004 collection, he came up to me and hugged me, and he was crying. He was very upset that I was leaving. He was shy, but once you got to know him he was very open and he had a great sense of humor — he used to make fun of people. He was also a very decent man: He was unbelievably nice to all of the seamstresses in the factory in Novara [Italy] who made his collection. He treated them well and they loved him. He was just a fabulous person."
Daphne Guinness: "He was the kindest, shiest, funniest person. And when the chips were down, he was there. He wasn't a flake. You could count on him. I will miss him."
Camilla Nickerson: "The staggering thing about him was that he literally cut fabric off the bolt, folded it very perfectly on the floor, and asked for the scissors from his very attentive assistant. He would then think about it and attack the piece of fabric and hold it to the girl, and there was the dress or the jacket in place. I hadn't ever watched anyone work so fluently and so directly."
Cathy Horyn: "Alexander McQueen's death is just incredibly sad. That is the only word for it . . . He was enormously creative and intelligent — and funny and rude and fearless. He said what he thought — a rarity in the fashion establishment — and very often he could wind you up, toy with you, pull a bit of wool over your wide, innocent eyes."