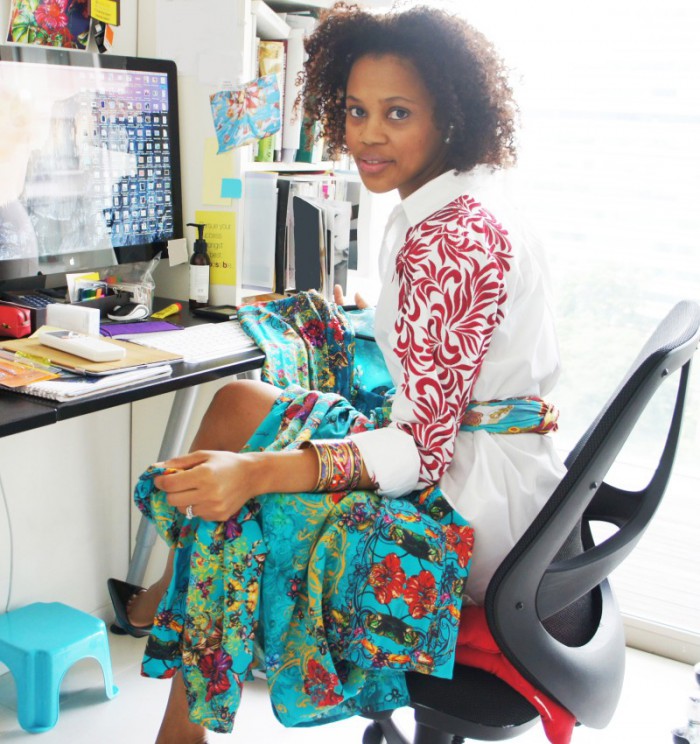 After a successful debut in Europe, Patricia Rox officially launched in Singapore earlier last month, and we had the opportunity for an exclusive interview with Patricia Haywood, founder and creative director of Patricia Rox herself.
Patricia Rox is a luxury womenswear brand that creates globally inspired, traditionally handcrafted pieces. Check out their Spring/Summer 2014 "The Fantasy Capsule" which features vibrant, circus-inspired scarves and buffalo horn and enamel jewellery which transport the Patricia Rox woman back to her whimsical childhood fantasies. The collection is luxurious yet effortlessly chic, and is versatile enough for a resort, travelling or attending a soiree.
How did you define your particular style or approach to fashion?
Growing up in Jamaica people wore a lot of colour and often pushed the boundaries of fashion. This inspired my love of bold colours and wearing things that are not necessarily considered fashionable. Moving to Paris however, greatly influenced my style as I grew to love a more toned down effortless chic appearance.
Finding one's style is a journey, it evolves as one grows and matures. I can certainly say that my style has changed over the years, but one thing remains constant – my love of bold colour.
My style is now very eclectic; I love vintage clothing and timeless pieces. I put them all together: mixing old and new. My favourite accessory is a string of pearls around my neck. I wear these no matter where I am going or what I am doing. I am a live in the moment kind of girl and every moment is a special moment to me.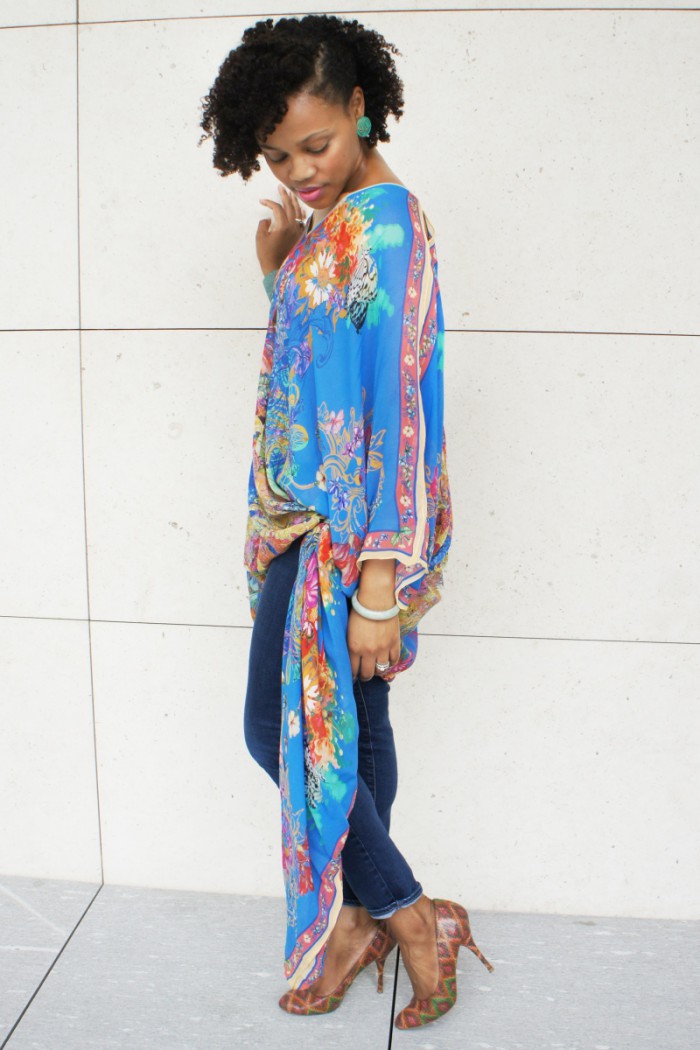 What can consumers expect in the near future from your label?
Patricia Rox is for the confident woman. She is travelled, well read and finds comfort in doing unconventional things. We will continue to cater to her by expanding our offerings to complement every aspect of her lifestyle.
We have just launched our e-boutique and everything is finally in one place, so she can now see the Patricia Rox universe.
We are also launching our Rox Star Loyalty Programme where our Rox Stars can get access to members' only reward prices on pieces, free shipping and Rox It FirstTM which will allow them to get next seasons' pieces first. A first for Singapore is that our loyalty programme will allow our Rox Stars to earn points from not only purchases but also through social actions- so today it may be points by pinning, tomorrow it may be points for tweeting.
We're also bringing our salon presentation concept to Singapore.
Our SS15 collection includes hand painted enamel jewellery and we will extend our jewellery line to include hand carved horn and gold plated pieces.
So the Patricia Rox woman can look forward to an exciting 2015. One thing however will remain constant, and that is our promise to her to provide well made, quality pieces that will stand the test of time. Everything we do will continue to be handmade and done with the utmost care and attention, as we respect the materials we use. We will also continue to work with craftsmen and woman, pushing the boundaries and stretching ourselves outside of our comfort zones to masterfully create new products and produce new ideas.
What inspires you the most & what has influenced your style?
Nature inspires me. Flowers bloom beside each other and it doesn't matter their neighbour's colours. They obviously don't have issues with colour clashing or have a long list of colour rules. Fishes have spots and stripes and multiple colours and they don't get all wrapped up about it. They all seem to get on just fine.
I like to think this way as well, I don't believe in fashion rules. I simply do what I want to do, oblivious to what others think. I love mixing colours and prints and old and new. I wear a lot of pearls and I remember someone pointing out that pearls are so dated, and then a certain celebrity wore them and they were en vogue again. So you really cannot listen to what people say when it comes to style.
My style is also influenced by my travels. Having lived in so many countries, I have picked up styling tips from each. For example, I own a lot of African wax cloth head wraps, I got obsessed with head wrapping while living in Uganda. I feel absolutely divine when I have on a head wrap. I love scarves around my neck –something I pick up in Paris and now I own so many, from vintage to new scarves. Living in Scotland opened my wardrobe up to tartans and kilts. Now I cannot live without my tartan skirts.
My style is therefore a reflection of my journey through life, which it should be and it will continue to evolve, as my journey is not over.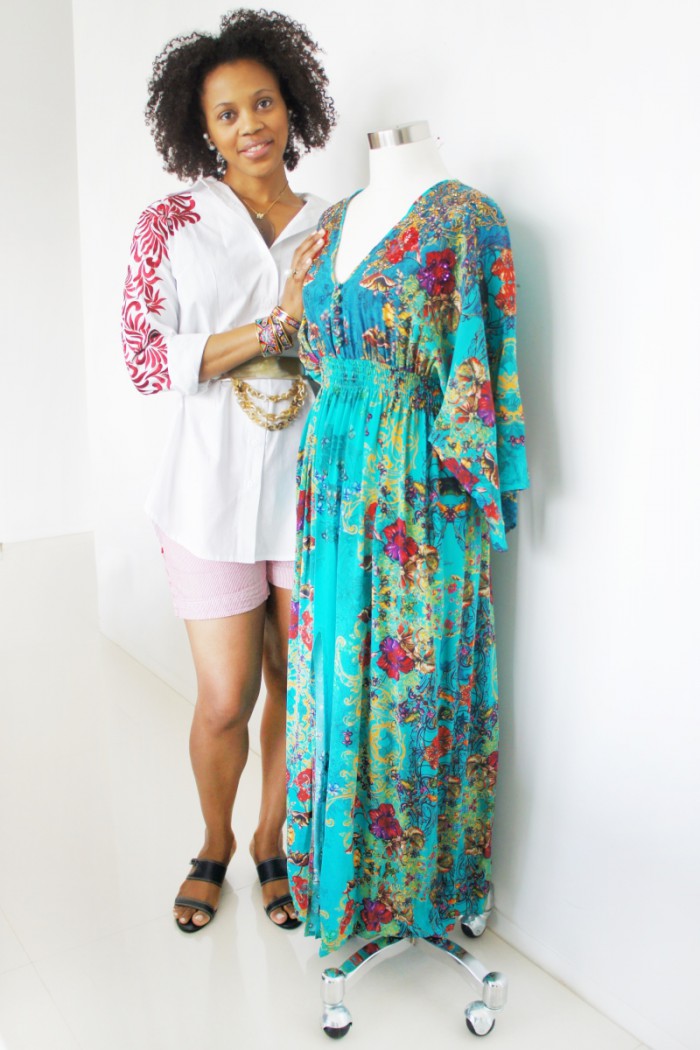 Have you always wanted to be a designer? And what would you be if you weren't?
Well, I am a lawyer, so I wasn't always a designer. That aside, I always wanted to be a ballerina. I remember watching the opera on TV every Sunday while growing up. I would prance around and try to dance like the graceful ladies I saw.
I actually joined a dance group in my teens, where I did tap, contemporary and a little ballet. I also represented my high school by dancing at national competitions. Academics however got the better of me and I dropped out of dancing to focus on my studies and exams. I recently read about an older lady who pursued her dream of becoming a ballerina. So all hope is not lost.
I strive…
to be the best that I can be everyday. It is very important to me that I work at being a good human being first. How we treat each other is a reflection of how we view ourselves and I try my utmost to remember this everyday.
Love,
P