Patricia Rox debuted in Europe in 2013 and is already gaining momentum internationally with plans to establish the brand here in Asia, beginning with Singapore on Nov 20.
The luxury womenswear company creates globally inspired, traditionally handcrafted pieces, and officially launched the brand and its Spring/Summer 2015 The Fantasy Capsule in Singapore recently.
With exotic, intricate prints and bright, bold colours at the forefront of its designs, Patricia Rox brings one-of-a-kind ready-to-wear and accessories to discerning, sophisticated women.
Patricia Rox is the brainchild of fashion lawyer Patricia Haywood. Gathering inspiration from her love of travel, Patricia has created a brand that brings together traditional techniques and modern ideas to create unique, handmade pieces, and a brand with a mission to make well-crafted pieces available to women everywhere.
"At Patricia Rox, we go to great lengths to bring women unique and well-made clothing and accessories. Our vision is to bring together some of the most creative people from different regions to create something special, and to make the art of traditional craftsmanship accessible to women worldwide," says Haywood, Founder and Creative Director, Patricia Rox.
Every scarf and piece of jewellery is handcrafted by skilled and passionate craftspeople. Patricia Rox works with artisans who are the best at their craft and who are skilled at preserving the integrity of the materials used in each piece created.
Each print is painstakingly hand-drawn by one artist, with some prints taking 200-300 hours to complete. These one-of-a-kind prints are viewed as works of art. This traditional technique translates to smaller runs and limited editions of each design and ensures that each and every piece will be unique and exquisitely crafted.
With a mission to find the best natural materials like silk, cotton, linen, horn, enamel and pearl from around the world to create unique pieces that are just as unique as the Patricia Rox woman, all materials are ethically and sustainably sourced from only the best suppliers from the Americas, Europe, Africa, and Asia.
Currently, the collection of Patricia Rox scarves is available online at www.gnossem.com, a Singapore based online shopping site for unique and quality fashion from top, independent designers. Outside of Singapore, Patricia Rox is available in Asia at Aman Resorts in Bali, and www.shopzaozao.com in Hong Kong.
An e-commerce site and physical flagship store are in the works.
(Photos: WTFSG.com/Patricia Rox)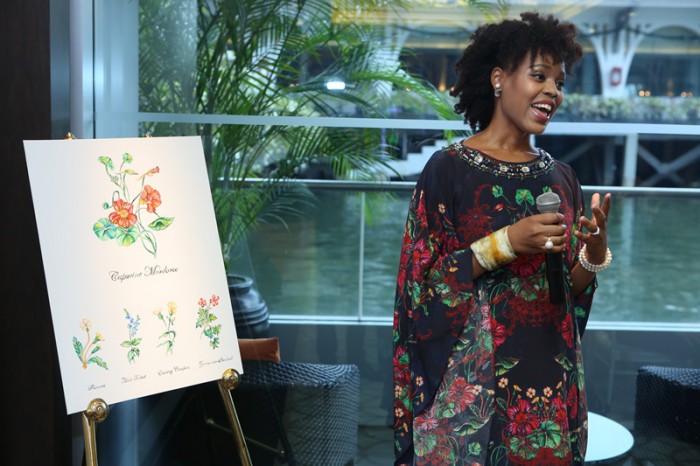 Patricia Haywood, Founder and Creative Director, Patricia Rox